Searching for the best oil filter for 7.3 Powerstroke diesel? Then you've come to the right place.
Here in this article, you'll learn about different 7.3 oil filter models, review, how to change oil, and other essentials.
So let's take a look at our detailed guide and find the best oil filter for 7.3 Powerstroke.
Click here to skip to our recommended pick!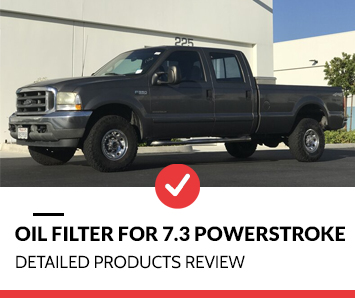 Our Overall #1 Rated Pick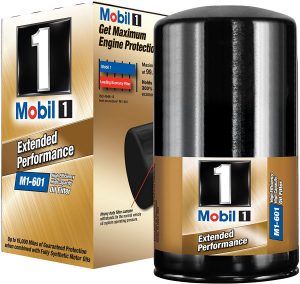 Synthetic fiber blend media
28 grams of residue capacity
Silicone anti-drain valve
This filter has taken our top spot because of its excellent compatibility with 7.3 Powerstroke diesel engines.
Performance-oriented diesel engines such as the 7.3 Powerstroke need high-quality filtration and mileage. The Mobil 1 offers just those. Based on the user reviews, this filter lets your truck run ever so smoothly for thousands of miles.
The Mobil 1 has extended performance filter line's (M1EP) design with synthetic fiber blend media that traps and holds more particulates than other conventional filters. They are now offering both spin-on & cartridge filters.
The filter currently covers over 97 % of vehicles in operation (VIO). It also has a multi-pass efficiency rating of 99.6%. While effectively removing contaminants, it can hold about 28 grams of residue as well.
Additionally, it fixes internal leaking and prevents dry starts.
Oil Filter for 7.3 Powerstroke – Preferred by Users
Let's hear it from veteran users. When it comes to these sensitive changes, experience pays off. So here are some thoughts of users having low mileage (below 60k miles) to very high mileage (well over 200K miles) on their engines.
Diesel engines are sensitive so you have to choose a compatible filter. A lot of users prefer 'Motorcraft' filters for 7.3 Powerstroke. The main reason being they are FORD recommended and built as OEM blueprints.
Some of the users faced a problem with non-OEM filters. Compatibility issues seem to be persistent in some cases. But some other users claim to have no problem with non-OEM filters.
A few of the users with high mileage recommend Donaldson filters. They seem stable and high-performing. Some others claim that WIX, Mobil, Purolator, and Walmart filters also do a decent job keeping your truck running.
So the bottom line is you have to maintain compatibility with your diesel engine. You should also check the threading, filtration rate, media, etc to keep away further inconveniences.
Furthermore, you could use these forums to your advantage. Look for suitable answers or ask your questions. Helpful people are never too far away.
Best Oil Filter for 7.3 Powerstroke
Enough waiting. Take a look at our top selection to find the best filter for your 7.3 Powerstroke.
The top best product [hide]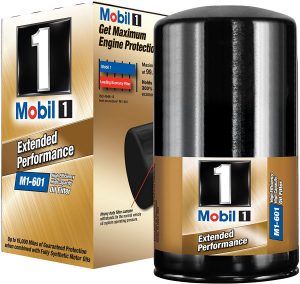 This the best overall filter for your 7.3 Powerstroke. It's made according to the OEM and yields better results than other filters. It has a bigger capacity for long term filtration. Holds up to 28 grams of residue. Effectively fixes internal leakage. Prevents dry starts. Good protection at affordable prices. Recommended for high mileage and top-notch engine performance.
Pros
For long drain intervals

Holds a larger volume of contaminants

Withstands higher operating pressure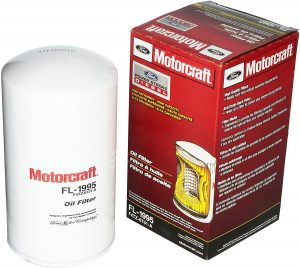 This filter is built according to the manufacturer's recommendation. Engineered to FORD's high-quality standards and recommended by Ford as the OEM filter. These are designed to protect against engine damage by screening out abrasive particulates. Sand, carbon, dust, and metal are filtered before they can get into your oil. A pressure-relief valve helps minimize the chance of contaminant recirculation. Also works well in extremely cold conditions, even if the filter is clogged.
Pros
Reduces abrasive particulates

Better circulation and filtration

Steel case, precise fit

The K&N premium filters are engineered to boost filtration, protection, and performance. They have a heavy-duty body that is built to be exceptionally durable. Convenient, quick, and easy removal. Unlike other filters on the market, these provide a very good filtration flow rate. So your engine runs smooth and consistent. And alongside highly efficient filtration, the sturdy exterior makes them running for a long time.
Pros
High oil flow rate

Compatible with most engines

Excellent durability

WIX filter is one of the most popular and trusted among 7.3 Powerstroke owners. The filter has an easy-fit design and excellent durability. Built to perform for a long time, these filters come with a heavy-duty body. Also, these have very good filtration rates and contaminant trapping ability. Should provide your vehicle with high mileages. Also very fuel-efficient and protective.
Pros
Spin-on easy fit

Durable exterior

High filtration rate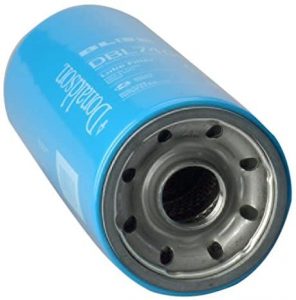 The Donaldson fuel filter is a high-quality durable replacement for your stock filter. It's the best budget filter for 7.3 Powerstroke and similar models. This a user recommended filter. Widely used by 7.3 owners. They are cost-effective, very durable, and outperforms most other filter replacements on the market. Equip if you want high mileage and efficient fuel consumption.
Pros
High durability

For high mileage

Performance boost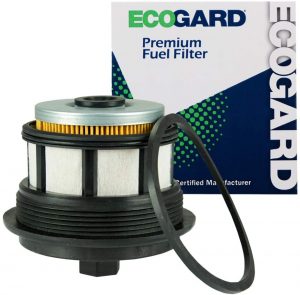 The ECOGARD premium diesel fuel filter pumps your engine with refined fuel. Effectively filters harmful materials and water from the fuel. Dirty diesel fuel filters can cause startup problems, unusual engine purr, rough idling, and slow acceleration. But ECOGARD is built based on the OEM requirements for optimum performance.
Pros
Precise connection for better installations

Highly efficient filtration

Improved engine performance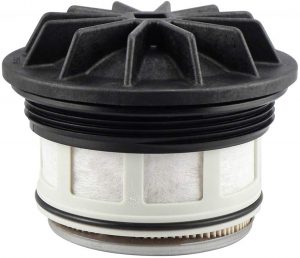 The Baldwin Heavy-Duty diesel filter protects your fuel system from foreign components and contaminants. They come with all-metal housing, which can unequally withstand burst and pulse. They are also manufactured with high-quality design parameters to boost strength. They are long-lasting, durable, and highly efficient in fuel contaminants removal.
Pros
High-performance build

Quality filtration

Optimum protection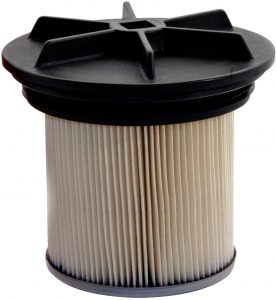 It's another commonly used filter for 7.3 Powerstroke. Filters particulates and boosts engine performance. This filter can reduce the fuel consumption of your diesel engine. Adds more mileage without compromising performance. It's also built as per OE requirements. Although, always double-check the manufacturer's specs before buying any filter.
Pros
Improves mileage

Enhances engine performance

Built according to OE specs

Model Overview
Well, since we're discussing oil filters for 7.3 Powerstroke, it'd be beneficial to know about the engine itself as well.
The 7.3 Powerstroke has been developed by FORD form 1994 to 2003. During that time and still, now, it's a popular diesel engine. FORD only suspended its development as modern vehicles needed to have lower fuel consumption and exhaust emission. So later, they developed a 6.0L version.
The Powerstroke has been, by far and large, a diesel engine. It uses full synthetic, synthetic blend and other similar engine oils. FORD highly recommends 15W40 and 5W40 oils for the best results and engine health.
Combined with the filter, it has 15 quarts oil capacity. 13 quarts goes into the crankcase, 2 quarts into the filter.
Additionally, this V8 engine's estimated dimensions are as follows, L – 34", W – 32", H – 38". It supports direct injection and hydraulic electronic unit injection (HEUI).
So as you can see, the engine always remained a diesel model during its development period. And no changes in oil preference has been recorded whatsoever. But in any case, for additional information, feel free to visit here.
Manufacturer Recommended Oil filter for 7.3 Powerstroke
It's always best to learn from the source, right? Yep. So let's see what the manufacturers have to say about this engine. Check the free user manual from here.
Briefly putting, the 7.3 Powerstroke runs best on two types of oils. 15W40 for hot and regular temperatures, 5W40 for cold. So while changing your filter, keep in mind that it should be compatible with these oils.
Also, you could refer to the FORD OEM for the filter FL-2051 for better convenience. Check the 'Intelligent oil life monitor' regularly.
Oil Filter for 7.3 Powerstroke – Buyer's Guide
We've already discussed some popular brands for 7.3 Powerstroke filters. Also, we've seen some recommendations by manufacturers and experienced users.
But a lot of people face difficulties when trying to change engine oil or filter by themselves. So here's a little guideline for them. Although, it's recommended that you let a servicing station take care of this hassle. It'd be more safe and efficient that way.
Engine oil change depends on mileage. Usually, you should change oil every 5000 to 7000 miles. Some vehicles come with smart indicators that show when you need a change. Here's how to do it.
And for the filter, around 25K – 30K kilometers. Although it'd be instructed on the filter. However, if it has a plastic body, then you may have to change sooner. As they get damaged much faster.
Here's how to change the filter on your 7.3 Powerstroke.
Do not touch the filter while it's hot or the engine's running. Take the necessary safety precautions.