Looking for some good advice in buying spark plugs for 4.3 Vortec? Bingo. You have come to the right place. Understandably, with so many options available in the market having similar technical specifications, it can be quite difficult to pick the right one.
Of course, your first choice will be the manufacturer recommended one, but to keep up with the rapid technological developments, it is always best to do some research. This beforehand research will pay you back in terms of improved horsepower and improved fuel efficiency of your engine.
Click here to skip to our recommended pick!
Our Overall #1 Rated Pick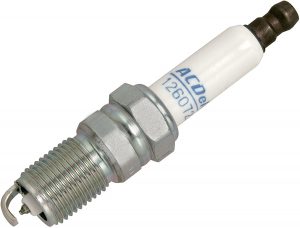 With the unbreakable construction of iridium, the ACDELCO 41-993 Spark Plug is our overall number one choice for Chevy GMC Van Truck 4.3L V6.
Its construction is remarkably strong and can bear high temperatures. Hence, it can fulfill the intensive driving needs. Also, in comparison with other brands, you will find the price of these spark plugs very cheap.
Furthermore, if you are in a cold climate zone, this spark plug is the best choice for easy and smooth starting. The efficiently designed iridium electrodes help better cold starting and quicker acceleration.
A special seal protects the car electronics by blocking radio frequencies interference. This suppressor seal ensures long electrode life by metering spark energy and preventing combustion leakage.
Technical Specifications
Brand: ACDelco
Model: 41-993
OEM Part Number: 12622441
Iridium tip
Weight: 1.6 ounces
Constructed on latest spark plug fabrication technology
Pros
Remarkable performance in a cold climate
Easy on the pocket (most affordable)
Suppressor seal blocks radio disruption frequencies
Protects the electronics in your car
The top best product [hide]
Spark Plugs for 4.3 Vortec: Buyer's Guide
Are you short on time or just want a quick answer?
Check out our list below for a summary of our results.
Most customers either have no or very little knowledge about the spark plugs when they buy or plan to upgrade a vehicle. The simplest thing to know is that with a proper spark plug, you will feel a remarkable difference in the vehicle's performance.
To elaborate; here are the few basic things that you need to know about spark plugs before buying one.
What Are the Signs of a Bad Spark Plug?
You can get maximum performance from your vehicle with clean spark plugs having proper electrodes. Dirty or fouled spark plugs adversely affect your engine output.
A bad or fouled spark plug contains layers of substances like fuel, oil, or carbon on its electrodes. A blistered spark plug due to high temperature also comes in the same category.
To keep your vehicle engine strong, spark plugs need routine service and maintenance just like motor oil, air filter, and oil filter.
Other signs of bad spark plugs include:
Slow acceleration
Poor fuel economy
Difficulty in starting
Rough idling
Engine misfires
More details watch in this video:
When Should I Replace Spark Plugs?
You should first check your owner's manual to see the mileage they recommend for spark plug replacement. In the case of Chevy GMC Van Truck 4.3L, GM and Chevrolet recommend replacement after 156,000 km.
If you could not get mileage completion instructions from the owner manual about spark plug replacement, then after a certain mileage/period you might face the following challenges:
Vehicle's sluggish operation and slow acceleration operating
Reduced gas mileage
Misfiring engine
Difficulty in starting the vehicle
These conditions might indicate spark plugs failures. Hence, it is time for you to consider replacing them. Otherwise, it can lead to serious damage and you might end up spending a lot more than you thought.
How to Change Spark Plugs?
Can you replace spark plugs in your vehicle yourself? Yes, of course, you can replace the spark plugs on your own without seeking help from a professional. Here's a video tutorial for beginners.
However, few essential tools are required to properly complete the job. Get these and you are good to go.
Socket wrench
Torque wrench
Swivel socket
Needle nose pliers
Spark plug wire puller
A gap gauge
Now, to access spark plugs, remove the air cleaner components, vacuum hoses, and plastic cover from the engine top. Clean the top of your engine and ignition coils through compressed air. It will prevent dirt and debris from falling in the engine cylinders.
Then, remove the ignition coil along with the boot component. Make sure to remove the spark plugs once the engine cools down.
You can use a spark plug wire puller along with a swivel socket to remove the spark plug from the engine. Before you install new spark plugs, gap them as per the manufacturer's instructions.
Based on the manufacturer's torque spec, apply the proper amount of torque with the torque wrench. Don't go overboard with the force as too much torque will deform its shape. Now reinstall everything as before. This includes coil, electrical connector, and air cleaner components.
That's it, you're all set to start your engine.
If the shaft is in the way, follow these instructions.
If it sounds like too much work, you can always ask a professional. They will charge you something between $40 to $150 for changing the spark plug.
Types of Spark Plugs
Another super important thing to consider is the spark plug type and its best usage. The five major types are copper/nickel, silver, single platinum, double platinum, and iridium.
Copper/Nickel
In this type, the center copper core electrode is coated with nickel alloy. Of all the spark plugs types, this one has the largest diameter therefore it needs more voltage to produce a spark.
However, this type of spark plugs needs frequent replacements since nickel alloy is less durable and comparatively soft. Also, copper/nickel spark plugs have highly competitive prices.
Silver
Next comes the silver spark plugs with silver-coated electrode tips. They offer the best thermal conductivity. However, since silver is a relatively less durable material, they have decreased longevity.
Generally, motorcycles and older European performance cars use silver spark plugs.
Single Platinum
In single platinum spark plugs, a platinum disc is welded to the tip of center electrodes of copper/nickel plugs. The platinum metal lasts longer than nickel alloy.
Since these plugs produce more heat, you will find less carbon build-up. Most new cars with distributor based electronic ignition systems use single platinum spark plugs.
Double Platinum
Double platinum spark plugs use platinum plating on both the ground and center electrode. This type is well known for long life with high performance.
These plugs are best for wasted spark ignition systems.
Iridium
Iridium is one of the most durable and hardest materials used in spark plugs. They perform well for the longest duration. Due to smaller center electrodes, they require less voltage to produce a spark.
Keeping in view the features of these spark plugs, it is safe to say that Iridium spark plugs are the highest in cost, and even better than double platinum, especially for the 4.3L.
What Brand of Spark Plugs Does Chevy Use?
As per express owner manual issued by GM and Chevrolet, a vehicle with 4.3L V6 engines use following brand of spark plugs:
GM (Part no – 12622441)
ACDelco (Part no – 41-114)
Chevrolet Approved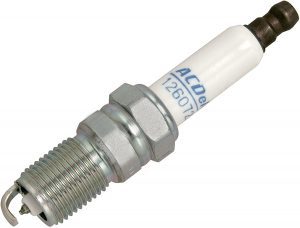 Best Spark Plugs for 4.3 Vortec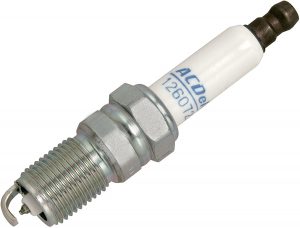 With the unbreakable construction of iridium, the ACDELCO 41-993 Spark Plug is our overall number one choice for Chevy GMC Van Truck 4.3L V6.
Pros
Remarkable performance in a cold climate

Easy on the pocket (most affordable)

Protects the electronics in your car

Suppressor seal blocks radio disruption frequencies

Cons
Preferable to use in cold climate areas


Iridium IX has high ignitability, superior anti-fouling, and extra-ordinary throttling response. Corrugated ribs are designed to stop flashovers. Three gasket seals help in gas leakage removal.

Furthermore, a long insulator nose is specially designed to prevent fouling. The 0.6 millimeter fine iridium tip is laser welded on electrodes. Similarly, a reduced electrical quenching effect is ensured by tapered ground electrodes.

Other features include anti-corrosion and anti-seizing. Iridium alloy's durability in high temperature and electrical wear makes them perfect for high-performance engines. It is one of the best spark plugs for 4.3 v6 Vortec engines.

Also after ACDelco, it is the best spark plug for a 4.3 Chevy. The 2014 Silverado 4.3 spark plugs preferred list also contains NGK Iridium IX.
Pros
Easy to install

Reliable and long-lasting

Designed for excellent performance

Iridium tip can bear high temperatures

Durable and generates a constantly stable spark


Denso 3473 iridium plug performs exceptionally well for a longer period, preventing electrode erosion in high temperatures. The 0.7 millimeters center electrode diameter remarkably affects the longevity and ignitability of spark plugs. They are fabricated by a revolutionary new 360° laser welding process. You will find a variety of options in the Denso brand such as iridium, platinum, and copper spark plugs.
Pros
Easy to install

Durable and long-lasting

Good fuel economy

Fights Corrosion

Faster start-up and high power

Available in different materials

The majority of spark plugs have similar mechanical design less spark plugs manufactured by Bosch. Based on reliable German engineering techniques, Bosch platinum spark plugs are uniquely designed to bring you the best experience.

They feature surface air gap technology with four yttrium ground electrodes. Resultantly, this unique design offers the most powerful and longest spark for ultimate engine performance.

Moreover, four yttrium enhanced ground electrodes prevent gap wear and oxidation resulting in a better and longer performing engine. Also for efficient combustion, they ensure the provision of optimum access to the fuel/air mixture.

Pure platinum provides heat fused center electrodes in Bosch plugs. With all these distinctive features, these plugs provide optimum engine performance, top fuel economy, and smooth acceleration.

Also, you would never require gapping, since this plug's electrode gap is factory set and never requires adjustment. Bosch platinum spark plug covers a wide range of engines.
Pros
Factory set electrode gap

Increased gas mileage

Adjustment not required and provides ease of installation

Surface air gap technology

Four yttrium enhanced ground electrodes

Cons
Used platinum instead of iridium


Autolite plugs perform exceptionally well for driving long distances. It provides higher RPM with a higher power.

Much faster spark with less voltage is generated with a necked-down center electrode. Also, it ensures quicker starts-ups, rapid acceleration, and better mpg.

In double platinum spark plugs, platinum is extensively used, while fabricating electrodes and coated cores. The full platinum tip prevents gap erosion.

In Autolite plugs, precise gaps are maintained by high nickel side electrodes. These spark plugs are recommended to be used in vehicles desired to drive with higher RPMs for longer distances.
Pros
Remarkably generates more power at high RPM

Double platinum

Provides good fuel efficiency

Longer life span

Faster start-up and quicker acceleration


In the ACDelco Rapidfire spark plug, the center electrode is fabricated by platinum, which generates a strong spark and reduces voltage requirements of the ignition system.

Moreover, the center electrode is specially designed with reduced diameter and tapered ends to improve the firing efficiency with less voltage.

Solid-state suppressor prevents radio frequency interference, ensures long electrode life by regulating spark energy, and provides protection against high combustion pressures.

Plug durability is ensured by the constant heat transfer from a pure copper core. Also, the ribless insulator improves the plug to boot seal in Rapidfire plugs.
Pros
Faster throttle response

Easy to install

Greater longevity

Availability of protection against radio frequencies interference

Better corrosion protection

Cons
Not as high-quality as iridium spark plugs

Conclusion
Now that you know all the basics about the best spark plugs, we hope it wouldn't be difficult for you to buy one. It is always best to test the waters before jumping in.
A little research beforehand always comes in handy especially when it affects the performance of your vehicle.
We have covered five best spark plugs for 4.3 Vortec. Simply go through the specs and pick the one that suits your needs the best.