The 5.3 Vortec engine produces a whole lot of power, and many people view it as one of the best motors around. However, one thing that your vehicles with a 5.3 Vortec engine will need is a good ignition coil.
Ignition coils don't last forever, but they are necessary in order to get the engine running. They create the spark for the initial ignition of fuel. If you have a vehicle with this sort of engine, you have come to the right place, because we are about to help you find the best coils for 5.3 vortec.
Click here to skip to our recommended pick!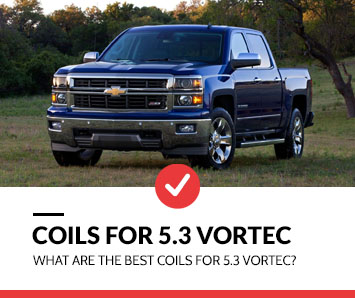 Overall #1 Rated Pick

The overall number one rated pick for the best coils for 5.3 Vortec has to be the MSD 82648 Ignition Coils. Now, what you need to know here is that yes, these are very expensive, but you get what you pay for, and what you get here is quality.
• These are simple bolt in coils which should be very easy for anybody to install.
• These coils are designed to meet and exceed all OEM standards.
• The MSD 82648 Ignition Coil are made with thick and durable copper for maximum voltage.
• These coils feature a very high level of corrosion and abrasion resistance.
• They go a very long way in both increasing fuel efficiency and decreasing emissions.
• All of that said, the MSD 82648 Ignition Coils are very expensive, way more costly than most others.
Coils for 5.3 Vortec – Buyer's Guide
Before you go out and buy just any ignition coils for your 5.3 Vortec engine, no matter which vehicle you have, there are a few things which you first should know.
Are you short on time or just want a quick answer?
Check out our list below for a summary of our results.
What are Ignition Coils
The purpose of an ignition coil is to take the relatively low voltage which your car's battery produces and turns into high voltage to create an electric spark required to ignite the fuel running into the engine. These are induction coils usually made with copper.
What are the Signs of a Bad Ignition Coil
You might be wondering how you can tell if an ignition coil has gone bad and needs to be replaced. Here are the top signs that your ignition coil is bad and is in need of replacement.
• Poor fuel economy
• Backfiring
• Engine misfiring
• Vehicle stalling
• Rough Idling
• Poor Power
• Engine Jerking
• Check Engine Light On
• Engine Hard Starting
All of these symptoms, so to speak, are all signs of a bad ignition coil, and if you notice more than one of these things happening together, chances are almost 100% that your ignition coils need replacement.
How Often do Ignition Coils Need to be Replaced
When it comes to replacing your ignition coils, this should be done roughly once every 100,000 miles. This does depend on the specific type of coil as well as the specific vehicle in question, although generally speaking, a replacement is required at between 80,000 and 110,000 miles. That said, coil manufacturers often recommend replacing coils much more often than this, even every 25,000 miles.
How to Replace Ignition Coils
Replacing ignition coils is not overly hard, but you do need to know what you are doing. Just to get you started, here we have included a video on how to replace ignition coils on your Chevy Silverado.
Best Coils for 5.3 Vortec
The top best product [hide]

Here we have an extremely high quality pack of blaster coils. Keep in mind that these are simple bolt-in models so they should be very easy to install no matter what. These coils are designed to fit a very wide variety of vehicles including ones like the GMC Sierra, the Chevy Silverado, the Suburban, and more. These particular coils are designed with thick and durable copper, so they produce more than enough voltage to start any engine. Thanks to their high quality design, they are also extremely durable. Not only are they durable, but very efficient too. They go a long way in increasing fuel efficiency and reducing emissions at the same time. When it comes down to it, these MSD 82648 Ignition Coil are probably the very best coils of their kind on the market at this time.
Pros
Very durable build

High quality materials

Great efficiency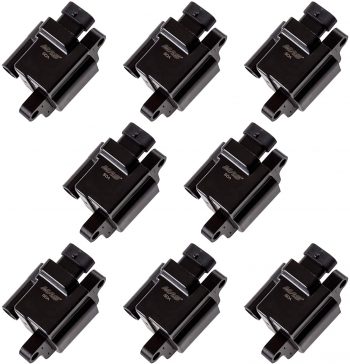 Here we have a great 8 pack of ignition coils, one that comes in at a very reasonable price. Keep in mind that these particular coils are designed to be compatible with a wide variety of vehicles including various makes of the GMC Sierra, the Chevy Silverado, and many more. This may not be a genuine OEM part, but it does meet OEM standards, so there should be no issues there. What really stands out about this MAS 8 Pack Square Compatible Ignition Coil is how durable and high quality all of the components are. These coils are made with extra thick copper wire for a much higher level of ignition energy. These coils as a whole are also designed to be extremely durable and long lasting. They even feature an optimized design for much greater fuel efficiency and mileage. What is also worth mentioning about the MAS 8 Pack Square Compatible Ignition Coil is that it comes with a 2 year or 24,000 mile warranty, which is not too bad at all.
Pros
Great price

Lots of ignition energy

Extremely durable

Easy to install

Good warranty

Cons
Will not fit vehicles which need round coils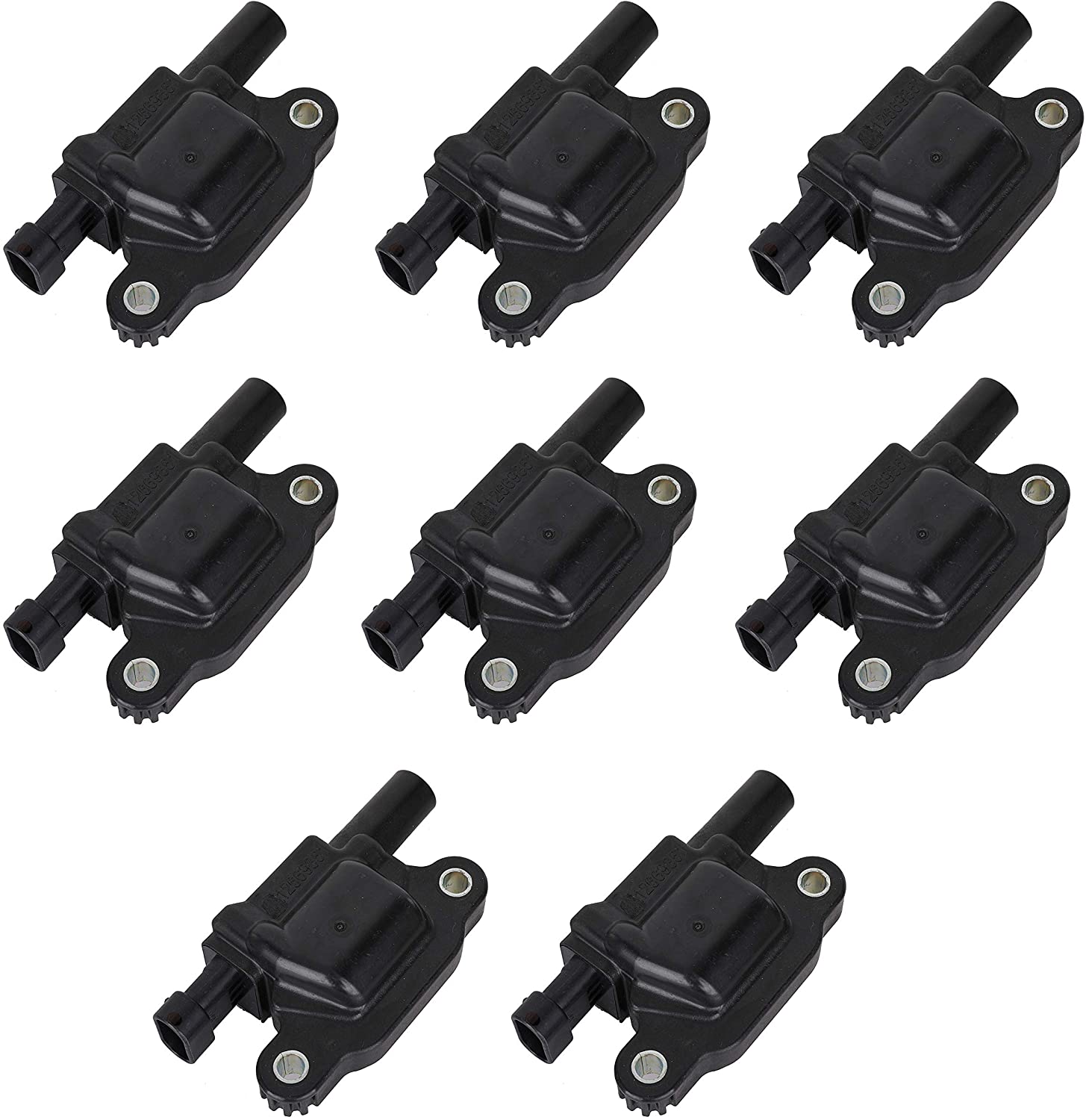 If you need new ignition coils for your 2013 Chevy Silverado 1500 with a 5.3 Vortec engine, this Yikesai Ignition Coil Pack is a good option to keep in mind. Now, these may not be cheapest coils around, but what can be said is that the lifetime warranty just can't be beat. These are simple plug and play style coils which should work simply by plugging them in, so to speak. It is also worth mentioning that these coils are designed to meet and exceed industry standards for ignition coils. These are very high efficiency coils which produce a lot of starting power for the engine. They are also designed with a very high level of durability, and they should last for at least 24,000 miles. They are also built to be highly resistant towards rusting, corrosion, and other forms of damage. The quality materials used in the construction of the Yikesai Ignition Coil Pack ensures a long lifespan.
Pros
Quality materials

Lots of power

Great warranty

High level of durability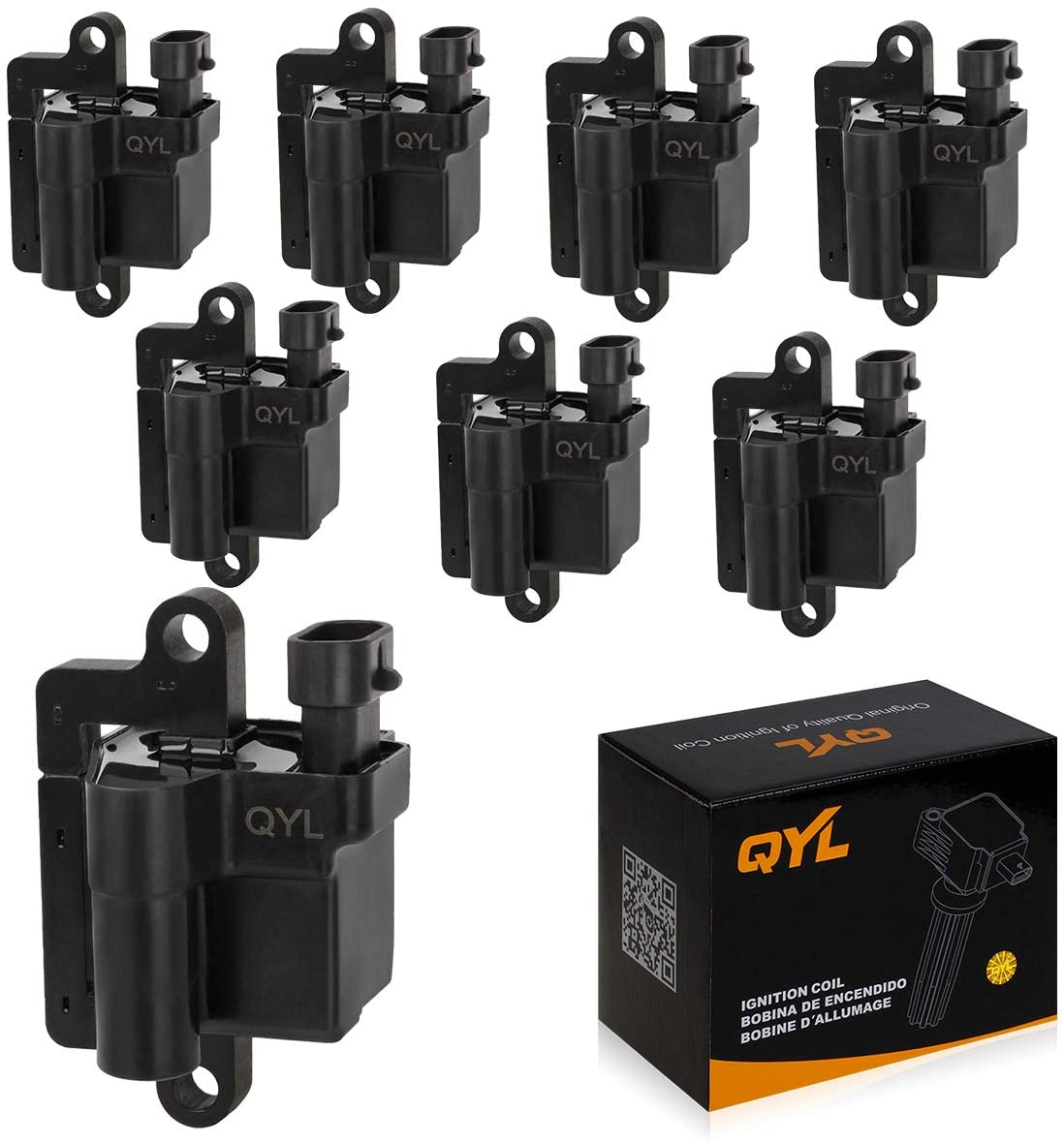 This is a high quality pack of replacement coils designed to fit vehicles made between 1999 and 2009, specifically models such as the Cadillac Escalade, Chevy Avalanche, Tahoe, Suburban, and Silverado, as well as the GMC Sierra, Savanah, and the Yukon. Beware that these coils will work for square type engines with 4.8 liter, 5.3 liter, 6.0 liter, 6.6 liter, and 8.1 liter engines. Something to beware of here is that although the QYL Ignition Coil Pack is not a genuine OEM part, it does meet and exceed all OEM standards. These coils do have some special features, such as the fact that they help provide maximum voltage to get vehicles started. They are not only designed for a high energy output, but also to minimize gas emissions, while also helping to improve overall fuel economy. The QYL Ignition Coil Pack are made with only the highest grade of materials, and this makes them extremely durable, as well as resistant to rusting and corrosion. They are very strong and resistant to abrasion.
Pros
Great abrasion resistance

Meets OEM standards

Corrosion resistant

Reduce emissions

Increased fuel mileage

Cons
Only for specific vehicles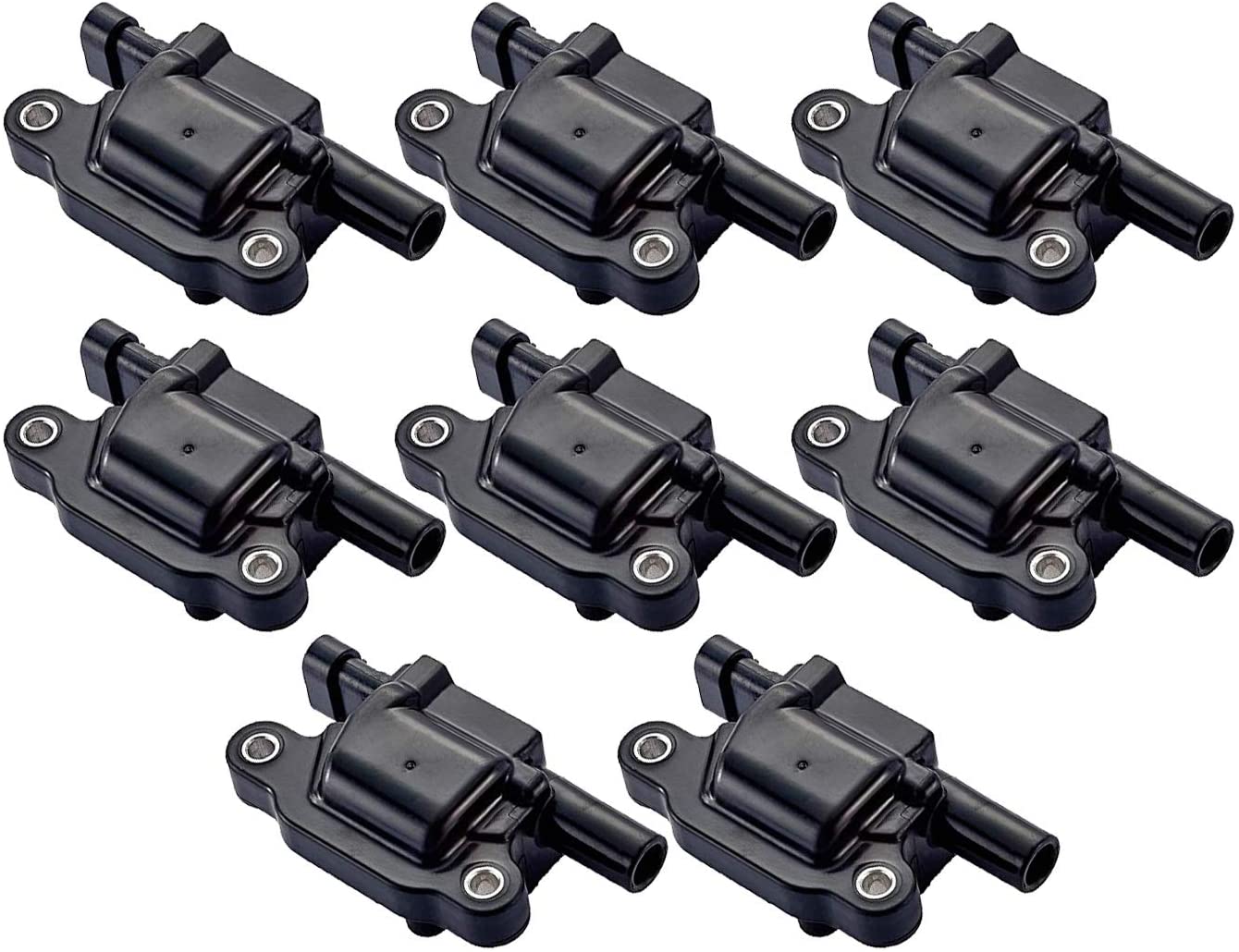 Something worth mentioning about these ignition coils is that they come in at a really good price, yet they also feature a good 5 year limited warranty. This is not too bad at all. These coils are suitable for a number of vehicles including various Buicks, Cadillacs, GMC models, and of course, the Chevy Silverado as well. It's also worth noting that all ENA products, such as these coils, are designed to meet and exceed OEM standards. What you might also like here is that these coils are designed to be very easy to install. These ENA ignition coils are designed to work reliably under all operating conditions, and they work fine at all engine speed ranges as well. In terms of functionality, they can help to improve smooth shifts, they help to increase fuel economy, to reduce emissions, and more.
Pros
Easy installation

Great functionality

Good price and warranty

Fits many vehicles

Cons
Somewhat limited durability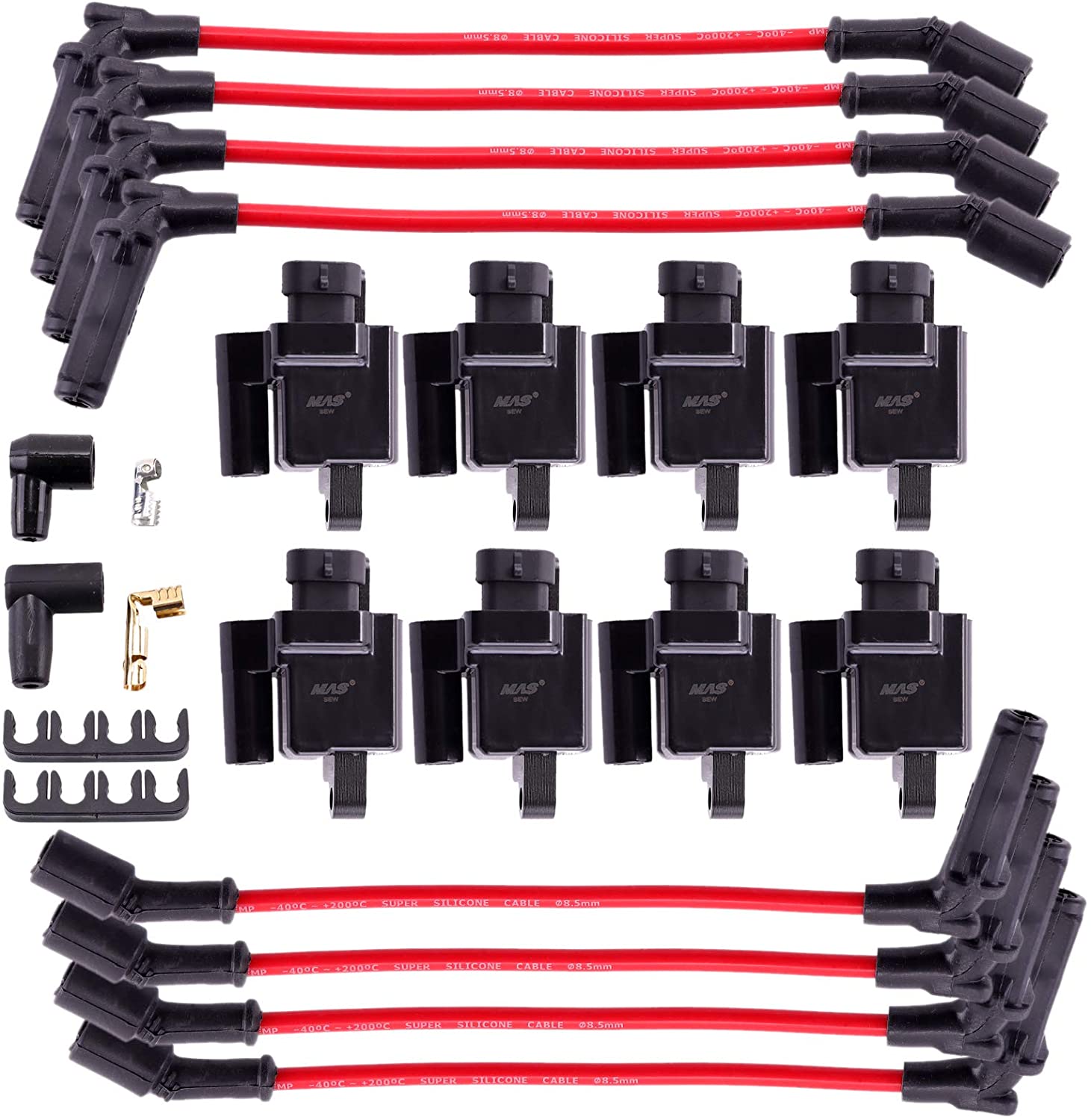 This is an ignition coil pack which should be compatible with a wide variety of engines including 4.8, 5.3, 6.0, and 8.1 liter engines, specifically for vehicles such as the Suburban, the Silverado, the GMC Sierra, the Yukon, and even for the Hummer H2. These ignition coils are designed for very simple and fast installation, a big bonus for anyone doing this themselves. Moreover, these coils are perfect for providing a very high energy output, for reducing emissions, and for improving fuel economy. These coils are made with thick and high quality copper, as well as other very high quality materials. They are extremely durable and designed to last for a very long time to come. They also feature very high electrical resistance.
Pros
Very durable

Complete kit

Fits many vehicles

High quality design

Easy installation

Conclusion
The most important thing to remember here is that the vast majority of 5.3 Vortec engines for all vehicles are going to require ignition coils with a square base. As long as you get the right coils for your vehicle, you should not have any problems whatsoever. Also, look out for coils that are rated for high fuel efficiency, lots of power, a high level of durability, and overall performance as well.