Although the 4L60E transmission is no longer in production, there are many vehicles, ones from 2013 and older, which do have this transmission. It's a really strong automatic transmission that allows vehicles to shift gears with ease.
That being said, seeing as these transmissions are now going to be fairly old, owners do need to take great care of them. A large part in caring for any transmission is using the right transmission fluid. This is what we are here for today, to help you find the best transmission fluid for 4L60E transmissions.
Overall #1 Rated Pick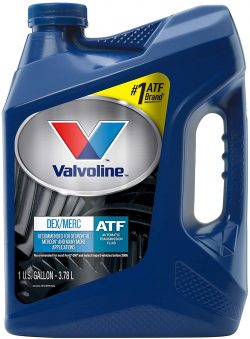 Valvoline DEX/MERC (ATF) Automatic Transmission Fluid
The important thing to know here is that the recommended transmission fluid for the 4L60E transmission is Dexron III, as well as Dexron 6 and Dexron Merc too. This particular transmission may also take other compatible ATFs or automatic transmission fluids.
The number one overall pick here would have to be Valvoline DEX/MERC (ATF) Automatic Transmission Fluid. There are a variety of reasons why this particular option makes for the top pick.
This transmission fluid is made with a mix of premium base stocks and enhanced additives to meet the demanding needs of automatic transmissions.
Valvoline DEX/MERC (ATF) Automatic Transmission Fluid features anti-shudder protection to help enhance smooth shifting, as well as for maximum power transfer.
This option also comes complete with anti-wear and anti-friction technology to help improve the durability and lifespan of the transmission.
Valvoline DEX/MERC (ATF) Automatic Transmission Fluid is also designed to help maintain better flow at lower temperatures while also offering good protection at higher temperatures.
Transmission Fluid for 4L60E – Buyer's Guide
Before you go out and buy 4L60E transmission fluid, there are some important points and facts to cover first.
4L60E Transmission Fluid Type
This is of course an automatic transmission, which therefore means that you will require ATF or automatic transmission fluid. This is not the same thing as transmission fluid which would be used for manual transmissions, although certain fluids may be interchangeable.
Once again, this particular transmission takes ATF, specifically type Dexron III, Dexron VI, or Dexron Merc. There are also other automatic transmission fluids which may be compatible.
4L60E Oil Capacity
Something you may be wondering is "how many quarts of transmission fluid does a 4L60E hold?" The answer to this is that this particular transmission can hold a total of 12 quarts of transmission fluids. So, when you are making a purchase, do keep this quantity in mind.
Chevy Silverado Transmission Fluid Type
One of the most popular vehicles which used to feature this 4L60E transmission is the Chevrolet Silverado pickup truck. So, do they all take the same kind of transmission fluid, or are there any differences to note. Let's take a quick look at some of the most popular models from this line.
2000 Silverado Transmission Fluid Type – One of the most highly recommended transmission fluids for this particular model is O'Reilly Conventional Transmission Fluid 20W Dexron III-H/Mercon.
2003 Silverado Transmission Fluid Type – The 2003 Silverado actually requires Dexron IV transmission fluid, with the official recommendation being Professional™ Full Synthetic Dexron™ VI Automatic Transmission Fluid by ACDelco.
2008 Silverado Transmission Fluid Type – The 2008 model also takes Dexron IV, with the official recommendation being O'Reilly Synthetic Transmission Fluid 20W Dexron VI.
How to Change 4L60E Transmission Fluid
In case you do not want a mechanic charging you an insane amount of money to change your 4L60E transmission fluid, you can do it on your own, as long as you know how. Below we have included a tutorial video on how to do just that.
Benefits of The Right Transmission Fluid
Let's take a quick look at why it is so important to have the right transmission fluid for your 4L60E transmission.
Transmission fluid helps to lubricate the transmission for smoother and faster performance.
This lubrication and smooth shifting can also help maximize power transfer.
The lubrication provided by transmission fluid helps to protect the gears from friction and wear.
Faster and more efficient shifting also leads to better fuel economy.
The right transmission fluid can maintain its integrity in all temperatures.
The Best Transmission Fluid for 4L60E
Here we have a selection of 4 different transmission fluids, all suitable for the 4L60E transmission, so let's take a closer look.
The top best product [hide]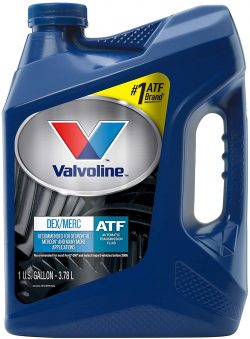 As mentioned above, this is the number one pick, and it is due to a variety of reasons. For one, this fluid will maintain performance in cold temperatures while also providing adequate protection in warmer temperatures too. This product is ideal for providing maximum wear and friction protection to increase the lifespan of these transmissions. It also comes with anti-shudder protection for smoother, more efficient, and more powerful shifting. It's made with premium base stocks and enhanced additive tech.
Pros
Good for all temperatures

High wear and friction protection

Long term protection

Anti-shudder tech

Cons
A little on the thin side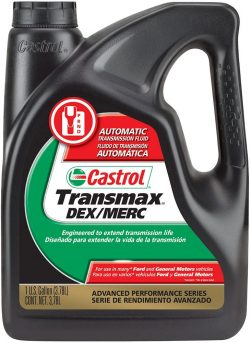 This transmission fluid is designed to be used in a variety of automatic transmissions in Ford and GM transmissions. This option meets DEXRON-III H requirements, plus it satisfies requirements of DEXRON, DEXRON-III, IIE and II, as well as Mercon requirements too. The main benefit of this transmission fluid is that it provides exceptional protection against long term wear, as well as friction, this enhancing the lifespan of transmissions. Although it is not the best for cold weather conditions, it does perform very well in hotter temperatures and is specifically designed for city and highway driving. It also comes with oxidization resistance to prevent an increase in viscosity.
Pros
Suitable for many vehicles

Exceptional protection and lifespan increase

Ideal for warm conditions

Good for city and highway driving

Resistance to thickening

Cons
Pricey

Not suitable for cold weather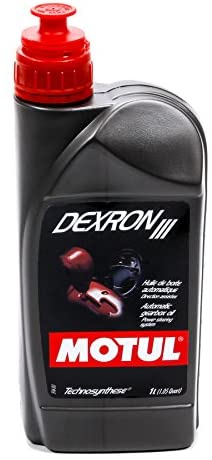 Motul 105776 Dexron III transmission fluid is a very high quality option designed to meet the needs of all transmissions which require Dexron or Mercon fluid. This option comes with a great deal of resistance to oxidation and thickening. Although it may not be the best for hot weather, it performs exceptionally well in cold weather and can easily resist thickening. That said, it does have decent film stability under high temperatures. It's designed for easy and smooth gear changing, as well as maximum power transfer too.
Pros
Best for cold weather

Suitable for many vehicles

Excellent film stability

Allows for smooth gear changes

Great power transfer

Cons
Not the best for fuel economy

Quite expensive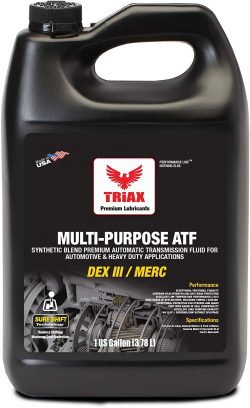 Here we have a transmission fluid which is designed for use with vehicles which require Dexron IIIH, III, IIE or II, and for vehicles with Chrysler MS-7176E, Allison TES 389, and Allison C-4 transmissions, and for ZF TE-ML 14A, 04D, 17C, 03D Ford ESP-M2C 166H, Ford ESP-M2C138CJ, Ford Mercon, and Caterpillar TO-2. It comes with state of the art additives to protect syncrons and gears. It also allows for smooth and responsive shifting, maximum power transfer, wear and friction protection, enhance fuel economy, and more. It's also made to provide complete seal protection, as well as great performance at all temperatures.
Pros
Best for a variety of transmissions

Great protection

Responsive and smooth shifting

Enhanced fuel economy

Great all-temperature performance

Complete seal protection

Conclusion
The bottom line is that the 4L60E transmission requires Dexron III, VI, or Mercon transmission fluid, so this is what you need to look out for. As long as you stick with the right kind of transmission fluid, you should not have any issues.