If you have a big pickup truck or a piece of heavy duty machinery with a big transmissions and gear boxes, you need to have the right gear oil for the job. 75w140 gear oil is used by many different transmissions, generally high horsepower vehicles such as passenger busses and large vans, large pickup trucks, service vehicles, and other large vehicles with tons of horsepower.
75w140 gear oil is great at minimizing friction and damage for transmissions that operate at high heats. It's all about being resistant to thinning at high temperatures. Yes, there are many options out there, which can make coming to the right choice a challenge. Right now, we are here to help you find the best 75w140 synthetic gear oil for your heavy duty machine.
Overall #1 Rated Pick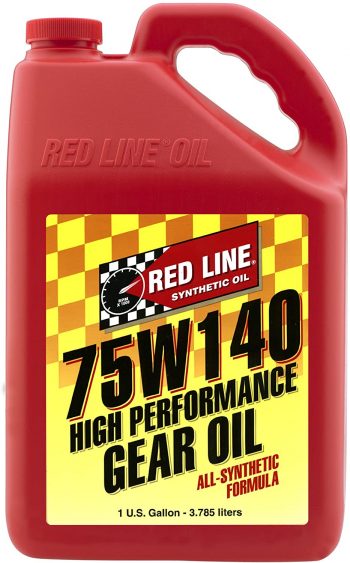 The number on pick for the 75w140 synthetic gear oil would have to be Redline Gear Oil 75w140. There are a variety of reasons why this is the overall #1 rated pick, so let's take a closer look.
• One thing which stands out about this particular synthetic gear oil is that is works with many different types of vehicles.
• It's ideal for smaller vehicles which require 75w140 gear oil, as well as for a wide variety of vans, pickup trucks, heavy machinery, and for semi trucks as well.
• This gear oil is designed to operate at very high temperatures and with large amounts of pressure, as is present in large motors and transmissions.
• This Redline 75w140 gear oil is ideal as it stays viscous even at very high temperatures, which is required for large vehicles.
• This particular gear oil excels at preventing all kinds of friction damage, wear, rusting, and corrosion.
• Through the use of this gear oil, you can help maximize the mileage you get out of your vehicle, as well as the amount of available HP.
75w140 Synthetic Gear Oil – Buyer's Guide
Before you go out and start buying gear oil, there are a few things which you should be familiar with, so let's go over a little buyer's guide, just so you know what you are getting into.
What is Synthetic Gear Oil
You might be wondering why you would use synthetic gear oil as opposed to mineral gear oil. The reason for this is because mineral gear oils do not perform as well as synthetic oils under extreme conditions, mainly under extreme heat or cold.
Seeing as most large vehicles do operate at extreme temperatures, particularly extreme heat, high performance synthetic gear oil is required.
Gear Oil Viscosity
Something else you might be wondering has to do with synthetic gear oil viscosity. As you might notice, all gear oils come with viscosity ratings, such as 75w140, with the first number representing the lowest temperature which it can efficiently operate at, and the second number representing the highest viable operating temperature.
75w140 gear oil, while it performs fine at lower temperatures, is specifically design for higher temperatures. This is a type of gear oil often used in large vehicles which produce a lot of HP and heat. When it comes to trucks and heavy machinery, high viscosity gear oil is required.
How Often to Change Gear Oil
If you are looking to keep your vehicle in top condition for as long as can be, you do need to change the gear oil on a regular basis. Gear oil for vehicles, as recommended by manufacturers, needs to be changed at least every 80,000 miles. Although, most will recommend going no more than 60,000 miles, with the absolute maximum time between gear oil changes being 80,000 miles.
How to Change Gear Oil
Sure, you can go to a mechanic and have them change the gear oil for you, but it is also possible to do it on your own. So, how do you change gear oil on your car or truck? Below we have included a video which does quite a good job at explaining how to change gear oil.
Features to Look for in Gear Oil
Before you go out and buy any kind of gear oil, there are a number of features and factors which you should look out for.
• Always remember to look out for viscosity requirements. Every vehicle requires gear oil with a specific viscosity to function properly, with some being able to handle more than one type.
• Check to see if you have a vehicle with a special gearbox which may require extra friction additives. Some gear oils come with friction additives, whereas others do not.
• See how much protection the gear oil in question can provide. Is it designed to prevent overheating and to provide basic lubrication, or can it also help keep your vehicle clean and rust free?
• Always be sure to look out for compatibility. Using the wrong gear oil for your vehicle can have disastrous consequences.
Best 75w140 Synthetic Gear Oil
The top best product [hide]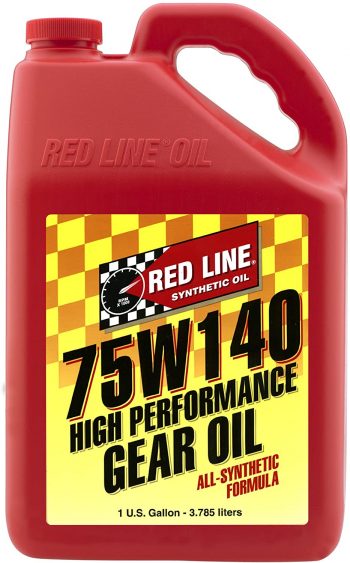 Here we have one of the best all around 75w140 gear oils, one that works for all sorts of Pickup trucks, SUVs, and other large vehicles of this nature. It can in fact also be used for smaller cars which require gear oil of this viscosity. Of course, being 75w140 in viscosity, it means that this gear oil performs very well at high operating temperatures, which large vehicles tend to feature. This particular option is recommended for API GL-5, GL-6, MT-1, MIL-L-2105E, and SAE J2360. Moreover, this option is also designed to help reduce friction, wear, and corrosion in vehicles. Simply put, it can help to greatly extend the lifespan of the transmission, not to mention that it can help boost HP as well. Redline Gear Oil 75w140 also contains additional friction modifiers to help reduce friction and to make it suitable for clutch-type limited slip differentials for most LSDs. There are also no additional friction modifiers required.
Pros
Very smooth

Ideal for many vehicle types

Exceptional performance at high temperatures

Suitable for most LSDs

No additional friction modifiers required

HP boost

Cons
Performance at low temperatures is not fantastic


Royal Purple 75W140 Gear Oil is designed to maximize horsepower for vehicles that need every ounce of horsepower possible, thus also making it one of the best gear oils for towing. What is also worth mentioning is that this particular option meets warranty requirements, so you won't void your warranty by using it. The environmentally friendly formula used here is beneficial because it's made to have a minimal impact on the environment. Royal Purple 75W140 Gear Oil is designed to help extend both gear and bearing life in large vehicles. It is also excellent at operating at high temperatures, as it is designed for large engines, while also being able to reduce the operating temperature of transmissions for a longer lifespan. This particular gear oil is also excellent as it goes a long way at reducing the coefficient of friction. It is also worth nothing that this gear oil features superior corrosion protection so your transmission lasts longer. It's also pretty cool because it can help to maximize mileage as well. It's also made to separate from water very rapidly.
Pros
Superior friction protection

Environmentally friendly

Great corrosion protection

Maximized mileage and HP

Ideal for many large vehicles

Helps reduce operating temperature

Cons
Package says 6 bottles, but only comes with 1


If you need gear oil designed for heavy duty trucks and high performance situations, this Lucas 75/140 Synthetic Gear Oil is a great option to look into. It's designed as a non-foaming and long lasting lubricant for trucks and large vehicles where normal gear oil just won't do. This is a super slick type of gear oil that allows for a minimal amount of friction, thus reducing transmission wear and tear, and ultimately allowing for a longer transmission life. This is also thanks to the fact that Lucas 75/140 Synthetic Gear Oil allows for a lower operating temperature, and thus performs very well in hot conditions. It can easily stand up to high temperatures without losing viscosity. Lucas 75/140 Synthetic Gear Oil also contains a special additive package designed to resist squeezing out under extreme pressure situations. In fact, this particular option is also ideal for use in limited slip differentials.
Pros
Excellent high temperature resistant

Excellent for large vehicles

Maximizes transmission lifespan

Ideal for high pressure situations

Best for differentials

Cons
Needs some friction additives for best performance


If you have a Ford F250 or other similar vehicles, you may want to consider Valvoline 75W-140 Gear Oil, as this is a very high performance gear oil. It is specially formulated to provide and maintain excellent low temperature fluid protection. It is specially made to provide maximum thermal stability, or in other words, it can handle a wide range of temperatures without its viscosity being affected. This high level of thermal stability allows for the maintenance of a much cleaner transmission and engine, thus improving the lifespan of your vehicle. It doesn't perform quite as well in cold conditions as in hot, but it still holds its own. Valvoline 75W-140 Gear Oil does come complete with special additives designed to help prevent rusting, corrosion, and friction. When it comes to protecting your transmission, this has to be one of the best options out there. Do keep in mind that this option is recommended for conventional and limited slip differentials, as well as non-synchronized manual transmissions where API GL-5 or API GL-4 fluid is required. It may even help boost available HP in large vehicles.
Pros
Great thermal stability

Ideal for a wide variety of vehicles

Superior friction and corrosion protection

Ideal for most temperature levels

May help boost HP capabilities

Cons
Better for high temperatures than low

This particular gear oil is designed to be used with a variety of trucks, pickups, SUVs, passenger vehicles, and other such large vehicles. This option is also designed for limited slip type differentials, and in most cases will not even require an LS additives. Mobil 1 102490 75W-140 Synthetic Gear Lube features a unique set of additives designed to deliver optimal viscosity-temperature properties, which means that it stays thin enough to work in cool conditions, yet will not lose its viscosity in high operating temperatures. When it comes to being able to operate in a wide variety of temperatures, this is one of the best options out there. Mobil 1 102490 75W-140 Synthetic Gear Lube is also ideal for preventing friction, wear, rusting and corrosion, plus it can help you get the most HP and mileage out of your vehicle too.
Pros
Ideal for most larger vehicles

Excellent wear protection

Prevents corrosions

Ideal for most temperatures

Cons
May cause some noise at low speeds

75w140 Synthetic Gear Oil - FAQ
Which Gear Oil is Best for Ford F150
• Valvoline 75W-140 Gear Oil • Redline Gear Oil 75w140 • Royal Purple 75W140 Gear Oil
Which Types of Vehicles use 75w140 Synthetic Gear Oil
• Large cars • Pickup trucks • Large SUVs • Semi trucks • Tractors • Some boats
How Much is 75w140 Synthetic Gear Oil
Let's quickly take a look at some of the best priced 75w140 synthetic gear oils for your vehicle. • Mobil 1 102490 75W-140 Synthetic Gear Lube • Redline Gear Oil 75w140 • Royal Purple 75W140 Gear Oil
How Much Gear Oil do Cars & Trucks Need
Your average pickup truck is going to require between 2 and 3 quarts of gear oil each time you change it.
Conclusion
The most important thing to keep in mind here is that you first need to check the gear box on your vehicle before buying any sort of gear oil. You need to ensure that the various 75w140 gear oils we have reviewed today are in fact compatible with your vehicle.