Are you looking for the best oil for 3.6 Pentastar engine? You've come to the right place as we'll explore all your options and help you make the right choice for your particular vehicle.
Not only will you find the best oils for this particular Chrysler engine, but you'll also learn a bit about the models, user recommendations, manufacturer's recommendations, and how you can change the oil in your car.
So carefully go through every section of this post as you'll find valuable information that will help you determine which product is best for you.
Click here to skip to our recommended pick!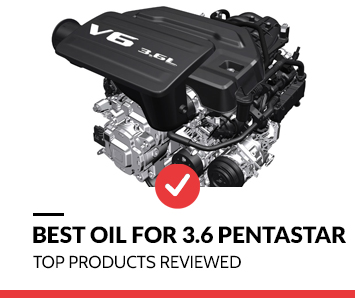 Our Overall #1 Rated Pick
Pennzoil Ultra Platinum Full Synthetic 5W-20 Motor Oil
Pennzoil Ultra Platinum Full Synthetic 5W-20 Motor Oil is the all-rounder pick for 3.6 Pentastar engines. Here are its key features:
Made from natural gas (PurePlus Technology)
Delivers good fuel economy
API Certified Gasoline engine oil
The 5W-20 viscosity oil is best for most models that use the 3.6 Pentastar, including Dodge Charger, Jeep Wrangler, and Chrysler 200.
This oil from Pennzoil can clean pistols and provide reliable wear protection. It's ideal for new and old cars alike.
The 5W-20 viscosity is good for both high and low-temperature conditions. In low-temperatures, it's particularly great, as it provides faster oil flow.
As a fully synthetic oil, it's your best bet against deposits. Also, the fuel economy can potentially improve, and you can even stretch the interval by a few hundred miles.
In this category of oils, Pennzoil offers some of the best prices. Therefore, you also get great value for the money.
Lastly, the company has designed an ergonomic bottle that's very easy to handle. Even if it's your first oil change, you'll be able to handle it just fine.
Oil for 3.6 Pentastar – Recommended by Manufacturer
You should also look into the manufacturer's recommendations for your model of the vehicle. While most cars with a 3.6 Pentastar engine come from the same manufacturer, it's worth ensuring what's recommended in the car's manual.
For instance, here are manufacturer recommendations on motor oil for Chrysler 200 2016 as per the owner's manual:
Chrysler Approved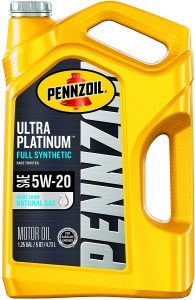 Viscosity (SAE Grade)
Chrysler recommends using SAE 5W-20 engine oil as it's good for all operating temperatures. It also addresses that if SAE 5W-20 is not available, SAE 5W-30 may also suffice, provided it meets the specifications. The oil you choose should have the engine oil certification mark API.
There isn't a different viscosity recommendation for different temperature conditions, so you can use 5W-20 all year long and regardless of where you're located.
Capacity
The oil capacity of the 3.6 Pentastar engine in this Chrysler 200 model is 6 quart.
Oil Specifications
In addition to being API certified, the oil should also be approved to FCA Material Standard MS-6395. As for the type of oil, the owner's manual allows the use of synthetic engine oils if they meet the required standards and viscosity.
For this particular model, the manufacturer recommends Pennzoil, Shell Helix, or equivalent as these brands meet the FCA Material Standard MS-6395.
Oil for 3.6 Pentastar By Mileage
Another thing you need to keep in mind when choosing the motor oil for 3.6 Pentastar is the mileage of your car. While the manufacturer doesn't mention any different viscosity for high-mileage cars, users have different opinions.
Most users recommend the same viscosity as that recommended by the manufacturer, 5W-20. While almost all owners recommended using 5W-20 viscosity, different users have different brand preferences.
However, some users mentioned Mobil 1 oils burning faster. That's also perhaps because it's not officially recommended by FCA. It does meet the basic requirements, though.
There's also a debate about whether to use synthetic oils at all, as the company doesn't specifically ask for synthetic oils. That means, you can also use conventional oil. But most users still use synthetic oils, mainly because they deliver better quality than conventional oil.
Here's what you should know about mileage for your 3.6 Pentastar:
| Mileage | Brand |
| --- | --- |
| Low-Mileage: Below 75,000 miles | 5W-20 or 5W-30 |
| High-Mileage: 75,000 miles or above | 5W-20 |
The best oil for high-mileage 3.6 Pentastar seems to be the same 5W-20 full synthetic oil. Most people continue to use the same 5W-20 viscosity full synthetic oil in popular brands like Pennzoil, Shell Helix, and Royal Purple.
Important Note: If your car is showing trouble as it reaches high-mileage, you may want to use the 5W-20 high-mileage engine oil, which is specifically designed for high-mileage vehicles. It can prevent many potential problems as your engine completes more miles.
Best Oil for 3.6 Pentastar
The top best product [hide]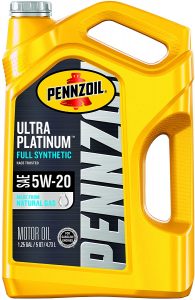 Pennzoil Ultra Platinum Full Synthetic 5W-20 is the best overall. It's a high-quality, full synthetic oil that's known for protecting the engine and increasing its fuel economy. It's API certified and meets the FCA Material Standards that are recommended for many cars with the 3.6 Pentastar engine. You can use it in any temperature conditions as it supports both high heat and low-temperature starts. This particular oil has passed some of the toughest industry standards. It's good for both low mileage and high mileage cars too that are running normally. The price point is also worth mentioning as even though it's a premium quality oil, it's not really expensive.
Pros
Made from natural gas

Great fuel economy

Wear and deposit prevention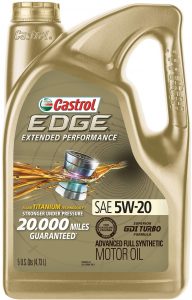 The Castrol Edge Extended Performance is the best oil for 3.6 Pentastar for cars that run in the city a lot. In other words, it's good for cars that do a lot of idling in traffic. The GDI Turbo Formula with added titanium provides exceptional cleaning for such cars that may be more susceptible to wear and deposits. The company says it can last up to 20,000 miles between changes, which is double the change interval of 10,000 miles normally recommended for 3.6 Pentastar engines. As a result, you can stretch the mileage a bit. As is typical with synthetic oils, this 3.6 Pentastar 5W-20 viscosity oil from Castrol also improves fuel economy.
Pros
Powerful formula

Great for inner-city cars

Six times stronger wear protections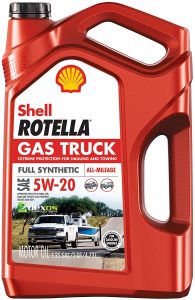 For high mileage cars, the Shell Rotella Gas Truck Full Synthetic 5W-20 motor oil is a good choice. Its full synthetic formula is designed for all mileage cars and trucks, so it's good for a variety of cars with a 3.6 Pentastar engine. It's especially great for cars that do a lot of heavy work like hauling and towing. If your car does that kind of stuff, you should use Shell Rotella. It will protect the engine and prevent any sludge from all the hard work it does.
Pros
All mileage oil

Good for extreme temperatures

Very affordable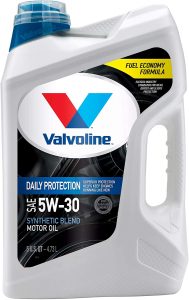 The Valvoline Daily Protection Synthetic Blend Motor Oil is the best budget choice for 3.6 Pentastar 5W-30 viscosity oil. It's not a full synthetic oil but is still compatible with this engine. If you're going for a synthetic blend instead of full synthetic, Valvoline is a reliable name. It's API certified and made in the US, so it's high-quality. This is a good alternative to 5W-20, especially if you don't do any heavy lifting with the car and drive normally. It does provide adequate wear protection and is cheaper than synthetic oils.
Pros
High-quality

Resists oil breakdown

Cheap

Cons
Not a great choice for stop-and-go cars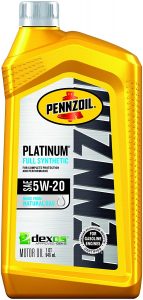 The Pennzoil Platinum Full Synthetic 5W-20 Motor Oil qualifies as the manufacturer's recommendation as it meets all the requirements and certifications. This is a step down from the Ultra Platinum version, but still a high-quality product. Like all Pennzoil synthetic oils, this one is also made from natural gas. It can clean the pistons 45% better than the industry standard. It's a dexos approved Gen 2 oil with ergonomically correct bottle design.
Pros
High-quality formula

Reliable wear protection

Good for extreme temperatures

Model Overview
Chrysler's Pentastar 3.6 is a 60-degree V6 engine. It takes 6 quarts of the 5W-20 or 5W-30 motor oils, as it falls between economic and high-power engines. It has cast aluminum cylinder blocks and a head that makes it lighter and more efficient.
The 3.6 Pentastar engine has been used in many Chrysler models ever since it was launched in 2010 for 2011 model cars. It's been a gasoline engine throughout its lifetime, with some changes only introduced in 2016.
While most models take the 5W-20 engine oil, some may have exceptions. For instance, the Jeep Grand Cherokee V6 engine takes 0W-20 engine oil.
In 2016, the 3.6 Pentastar got a two-stage variable lift and was upgraded to variable valve timing (VVT) system. In addition, it had new fuel injectors, ignition coils, and an intake manifold. So some of the models like Jeep Grand Cherokee, Dodge Durango, Chrysler Voyager, and Chrysler Pacifica featured this new V6 engine after 2016.
These upgrades in the engine have not changed its capacity and oil compatibility. So the newer version also uses SAE 5W-20 and 5W-30 motor oils. There aren't any specifications if one should use a full synthetic or a synthetic blend.
However, there have been rumors of a turbocharged Pentastar 3.6. That could have different motor oil compatibility, and will most certainly prefer full synthetic oil.
Oil for 3.6 Pentastar – Buyer's Guide
While the Pentastar 3.6 engine hasn't seen any major changes except for some in the year 2016, you should still consult your car's owner's manual. Here's all that you need to know before buying.
How Much Oil Does a 3.6 Pentastar Take?
The 3.6 Pentastar oil capacity is 6 quarts. However, a 5-quart bottle will do when doing a simple oil and filter change. Most oils come in 5 quarts bottles, so you can use a whole bottle. You can also top it off with a single quart bottle if the oil seems less.
Service Intervals
Service intervals vary by cars and your use. Generally, for 3.6 Pentastar you must not exceed 10,000 miles or one year. That said, many users change the oil just after 5000 miles.
Whether you change it earlier than 10,000 miles is up to you. However, ensure that you follow the interval recommended for your specific car's model.
How to Change Oil in 3.6 Pentastar?
Changing engine oil is even if you've never done it before. You'll also need to change the oil filter. MOPAR oil filters are the best for use with this type of engine.
Make sure you have the right tools and the right 3.6 Pentastar oil type. Since this engine is found in so many different car models, the method can slightly differ.
But just to give you an idea, here's a tutorial of Jeep JL Wrangler 3.6 Pentastar oil change.
3.6 Pentastar Oil Type By Year
2011-2014 Chrysler 200
The Chrysler 200 models LX, S, C, Touring, and Limited, all had the 3.6 Pentastar engine from 2011 to 2014. Its engine oil capacity is 5.2 quarts, and it takes API certified and FCA Material Standards approved oil.
2011-Present Dodge Charger
Dodge Charger is one of the models that has been using the same 3.6 Pentastar engine since it was introduced back in 2011. It takes 5.9 quarts of 5W-20 viscosity oil.
2018-present Jeep Wrangler
Jeep Wrangler, after 2018, used the upgraded 3.6 Pentastar V6 engine with new fuel-efficient features. It prefers 0W-20 engine oil and has a capacity of 5 quarts.
2011-2016 Jeep Cherokee
Jeep Cherokee came with 2.4L and 3.6 V6 engines. For the 3.6 V6 engine, the recommended oil is 5W-20 or 5W-30 viscosity. It takes full 6 quarts of motor oil.