Looking for the best oil for Toyota Corolla? In this post, you'll find all the information you need to get the best thing for your car.
You'll learn about which oil is recommended by Toyota, which viscosities are suitable, and under what conditions. This post is very user-centric, so you'll find out what other Corolla aficionados have been using over the years.
So don't skim to the products, and read all the sections to help make sense of how those products are chosen.
Click here to skip to our recommended pick!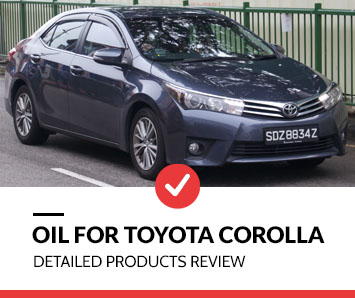 Our Overall #1 Rated Pick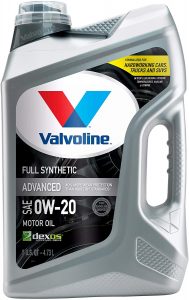 Valvoline Advanced Full Synthetic SAE 0W-20 motor oil
The overall number one pick for the Toyota Corolla is Valvoline Advanced Full Synthetic SAE 0W-20 motor oil, and for all the right reasons:
Compatibility with most recent Toyota Corolla models
40% more wear protection
Improves fuel economy
SAE 0W-20 is the recommended and frequently used oil viscosity for Toyota Corolla for more than a decade now.
Valvoline is a household name in the US when it comes to engine oils. Their oils are produced in the US and follow strict quality standards.
Toyota Corolla is a reliable car and the kind that people in inner cities and suburbs both prefer. It's just made to run without a lot of maintenance and lasts longer, but that's only possible if you use a quality engine oil.
Valvoline Advanced Synthetic is fully synthetic, not even a blend, so you get superior quality. It can prevent wear and deposit, especially in cars that easily do over 1000 miles every month.
The formula is designed for hardworking cars like Toyota Corolla. Regardless of the mileage, you can safely use this oil to keep it running perfectly.
Oil for Toyota Corolla Recommended by Manufacturer
When choosing an engine oil for your vehicle, it's best to check your car's manual for the official recommendation. While you'll definitely find the technical specifications, some manuals also recommend brands, which removes any guesswork.
Since Toyota Corolla has been around for a long time, recommendations may differ from year to year, especially from one generation to another. This is what the Toyota Corolla 2013 user manual recommends:
Viscosity
Toyota recommends using SAE 0W-20 motor oil, which is ideal for cold starting. However, it makes a note that, in the case said viscosity isn't available, 5W-20 can also work. For the 2.4-liter engine, both 0W-20 and 5W-20 are acceptable. But you should try sticking to 0W-20, as per manufacturer recommendation.
Capacity
According to the owner's manual, the oil capacity for the 1.8-liter engine is 4.4 quarts, and the 2.4-liter engine is 4.0 quarts with filter. Therefore, a 5-quart bottle should be more than enough to refill.
Specifications
The recommended engine oil for Toyota Corolla as per the manufacturer is Toyota Genuine Motor Oil or approved equivalent, which is basically API-certified. Also, it should be ILSAC multi-grade oil. Most popular brands like Valvoline, Pennzoil, Mobil1, and Castrol meet these requirements set by Toyota.
Toyota Approved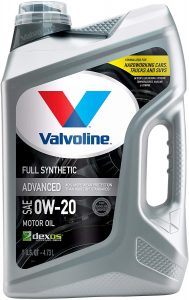 Oil for Toyota Corolla by Mileage
Mileage should also be an important consideration, especially if you have an older Toyota Corolla, which has had its fair share of mileage on the odometer.
For low mileage Toyota Corolla, you should stick to SAE 0W-20 engine oil. Although Toyota specifically recommends its own proprietary oil (Toyota Genuine Motor Oil), users say it's not necessary to use Toyota's own oil. Apparently, it's way more expensive than other name-brand equivalents.
As for high-mileage Toyota Corolla, you would most likely be using a model older than 2009, in which case, you should use 5W-30 viscosity. The general consensus is that if you've been using high-quality synthetic oil, you don't necessarily need to switch to a high-mileage variant.
If you do want to switch, the best oil for high-mileage Toyota Corolla is Mobil 1 synthetic high-mileage motor oil. It's very popular with high-mileage Corolla owners.
For older models, conventional oil was more commonly used. It may make more sense to upgrade to a synthetic blend or full-synthetic motor oil, but it's best to consult an expert who may make a recommendation depending on the mileage, model, and engine's condition.
| Mileage | Brand |
| --- | --- |
| Low-Mileage: Below 75,000 miles | 5W-20 or 5W-30 |
| High-Mileage: 75,000 miles or above | 5W-20 |
Best Oil for Toyota Corolla
The top best product [hide]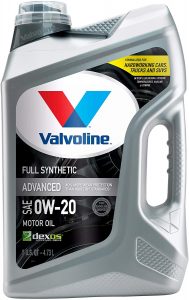 The Valvoline Advanced Full Synthetic 0W-20 oil is a cost-effective product that delivers on its promise of improving fuel economy and performance. It's best for all Toyota Corolla models starting from 2009.

Whether you idle a lot on inner-city roads or drive on freeways, this oil will meet your engine's needs. The formula is specifically designed to bolster hardworking cars.

It's the best overall engine oil choice for Toyota Corolla on account of its compatibility, extreme conditions tolerance, and value for money. This is API-certified and dexos approved.
Pros
Good for all temperatures

40% better wear protection

Performance improvement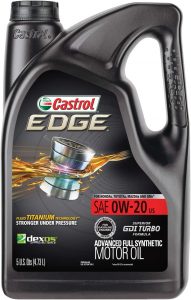 The Castrol Edge Advanced Full Synthetic 0W-20 oil is great for all mileage Toyota Corolla models. The Fluid Titanium technology of this oil reduces friction greatly. As a result, it keeps the engine performing well. The superior GDI Turbo formula can help get the best out of your car. If you're doing some heavy work with your Corolla, then this oil is an even better choice. It's the best 0w20 synthetic oil for Toyota cars generally.
Pros
Powerful deposit cleaning

Increases fuel efficiency

Engine protection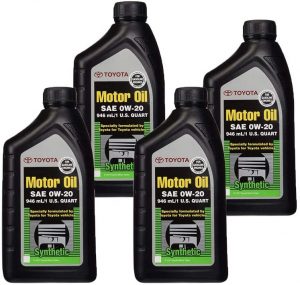 It's the best oil for Toyota Corolla 2013, according to the owner's manual. You can use it for any Corolla model in that generation. In fact, this manufacturer recommended oil is standard for most Toyota models. This Toyota synthetic oil 0w 20 is comparative with other branded oil products in the same viscosity. However, since it's recommended and made by Toyota, there's no reason to doubt that it will not improve engine performance and bolster fuel economy. This is a full synthetic oil, even though the bottle label just reads synthetic.
Pros
Manufacturer's pick

Full synthetic

Universal Toyota compatibility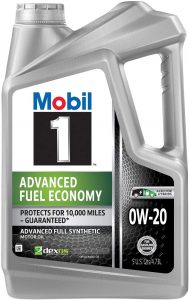 The Mobil 1 Advanced Fuel Economy Full Synthetic 0W-20 oil is specifically designed for increased fuel efficiency. If you're particularly interested in saving fuel costs, this engine oil will be really helpful. It's a favorite among Toyota users. Mobil 1 claims it can give you a guaranteed 10,000 miles interval, which can help save a lot of money. This oil works in both cold and temperate climates.
Pros
Great fuel economy

Improved engine performance

Can increase intervals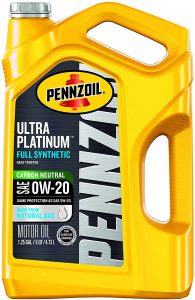 Pennzoil synthetic oils are made from natural gas, which is why they are top quality. It can keep the pistons 45 percent cleaner than average synthetic oil. So if you're looking for a pristine engine, this should be your choice. This particular variant of Platinum Full Synthetic oil is Carbon Neutral, so it's an ideal choice for those who may want to offset their Toyota gasoline engine carbon emissions, at least to some extent. You can add 550 more miles to the interval, saving you money over time. This PurePlus technology oil also improves fuel economy considerably.
Pros
High-quality oil

Verified carbon neutral

Good low-temperature oil flow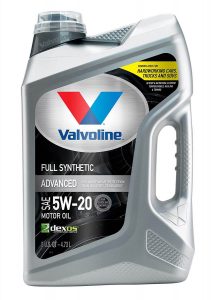 For those wanting to use the slightly thicker 5W-20 viscosity, the Valvoline Advanced Full Synthetic is again a top-rated choice. The formula keeps the engine clean, fighting sludge and deposits. It delivers 50 percent more cleaning power than average oils. This is ideal for extreme temperatures, too, ensuring a smooth start in frigid cold temperatures. The oil flows fast, even though it's thicker than the recommended 0W-20 viscosity. Made in the US, Valvoline oils offer great value for money.
Pros
Affordable price

Good flow in extreme cold

Reliable engine cleaning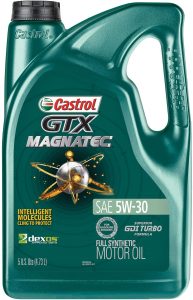 The Castrol GTX Magnatec Full Synthetic 5W-30 oil meets the requirements of Toyota Corolla models prior to 2009. It's GDI Turbo formula keeps the engine pristine clean, which is why it's also appropriate for high-mileage cars. This Toyota synthetic oil 5w30 gives smooth flow even in extreme conditions. It's also the best budget oil for Toyota Corolla models that take this viscosity. This is dexos approved and API-certified, which is what Toyota recommends too. This also has the potential to improve fuel economy, in addition to protecting your aging engine. It can easily be used in vehicles that have over 75,000 miles on them.
Pros
Improves fuel economy

Full synthetic formula

Sludge and wear protection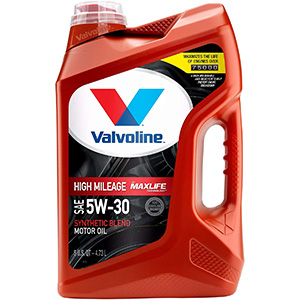 For Toyota Corolla that perhaps has over 100,000 miles and may be susceptible to leakage, the Valvoline High Mileage Max Life Technology Synthetic blend 5W-30 oil is an appropriate choice. It can really seal the engine and fix existing or potential leak issues. Max Life Technology indicates extra detergents added to ensure thorough cleaning of the engines. As they get older, they need some extra cleaning to ensure no deposits or sludges exist. This should be ideal for Toyota Corolla models prior to 2009 that take 5W-30, especially those that now need efficient oil for the high-mileage engine.
Pros
Added conditioners and detergents

Prevents leakage

Made in the US

Oil for Toyota Corolla – Buyer's Guide
Model Overview
Toyota Corolla is one of the most successful car brands that has gained worldwide fame on its own. It's a budget-friendly, mainly four-door sedan that's super reliable and sturdy. This is why it's still so popular in developed and developing markets alike.
It's now in its 12th generation and has seen its fair share of changes, especially in terms of body. However, it's still considered somewhat conservative.
The engine options currently include 1.8-liter and 2.0-liter four-cylinder gasoline engines, with the former being the standard since 2003. In terms of motor oil, the recommended viscosity only changed after 2009 when it was revised to 0W-20. For the Corolla models before 2009, the engine oil viscosity was 5W-30.
For earlier models, conventional oil was standard, but for more recent models, both synthetic or synthetic blends can work (although full synthetic is obviously the best choice).
How Much Oil Does a Toyota Corolla Take?
Toyota Corolla typically takes 4.1 to 4.4 quarts depending on the year of manufacture and engine size. Currently, the capacity for both 1.8-liter and 2.0-liter engines is 4.4 quarts. For older cars, the capacity might vary slightly, so it's best to check for the specific year.
Just to be safe, buy a 5-quart bottle, as that will easily meet the Toyota Corolla oil capacity. You'll also save money, rather than buying multiple single quart bottles.
Service Intervals
Toyota recommends changing engine oil in Toyota Corolla after 5000 miles or six months, whichever comes first. Typically, your car will require oil changes in the 3000 to 5000 miles range, depending on use. It also depends on Toyota Corolla oil type, if you're using full synthetic or only a blend.
How to Change Oil in Toyota Corolla?
Changing engine oil in a Toyota Corolla is very simple. Your first go-to option for instructions on how to change should be the owner's manual.
In case you don't have the manual or find the instructions difficult, head over to this video and watch the whole process in detail. It's pretty much the same for most Toyota Corolla models.
Tips
If buying Toyota Genuine Motor oil, buy it online or from Toyota, as it's usually expensive at dealerships.
For older engines, consult a mechanic to find which oil you should be using.
If you've been using full synthetic oil for the lifetime of the Corolla, there is no need switch to high mileage unless advised.
When using a synthetic blend, change earlier than 5000 miles or six months.
Buy a quality filter, preferably a genuine Toyota one.
Toyota Corolla Oil Type By Year
2003-2008 Toyota Corolla Oil Type
This generation of Toyota Corolla was known for its sturdy body and sporty features. It came with a hp-130, 1.8-liter four-cylinder engine, with another more powerful engine option as well. With this generation, synthetic oil had started to become more common.
For instance, the 2002 Corolla oil type is synthetic 5W-30.
Valvoline Advanced Full Synthetic 5W-30 Motor Oil
Valvoline High-Mileage Synthetic Blend 5W-30 Motor Oil
2009-2013 Toyota Corolla Oil Type
Starting with this generation, Toyota officially changed the recommendation to 0W-20 viscosity, with the option of 5W-20. The engines, however, didn't see much change. Toyota Corolla 2010 oil type was both 0W-20 and 5W-20, whereas Toyota Corolla 2013 oil type is primarily 0W-20, with 5W-20, only recommended if 0W-20 is not available.
Valvoline Advanced Full Synthetic 0W-20 Motor Oil
Mobil 1 Advanced Fuel Economy Full Synthetic Motor Oil
2014-2019 Toyota Corolla Oil Type
As with most manufacturers, Toyota also explicitly recommends using synthetic oils. It's own Toyota Genuine Motor oil is also synthetic. The oil type for this generation remained 0W-20, with optional 5W-20.
2015 Toyota Corolla oil type is preferable 0W-20 and for more powerful engines, both 0W-20 and 5W-20. Similarly, the 2017 Toyota Corolla oil type is 0W-20 for both engine variants, with 5W-20 also recommended for the 2.0-liter one.
Valvoline Advanced Full Synthetic 0W-20 Motor Oil
Castrol Edge Synthetic 0W-20 Motor Oil