The 4.3 Vortec engine has been used in many General Motor cars over the last three decades. If you're looking for the best oil for a 4.3 Vortec engine, we'll cover everything you need to know. From the manufacturer's pick to owner favorites, you'll know which oil is best for your particular vehicle and engine by the end of this post.
The 4.3 Vortec V6 engine was first introduced in the 80s and has since seen many improvements. It's a 262 cu engine with a horsepower of 160 HP at 4600 RPM. It has been used in Chevrolet and GM trucks and vans ever since the 80s.
In this post, we'll talk about manufacturer's pick for the engine oil, high mileage motor oil, user recommendations, and our own pick for the best oil for your 4.3 Vortec Engine. We'll also review the best brands and products that meet the motor oil requirements for this specific engine.
Click here to skip to our recommended pick!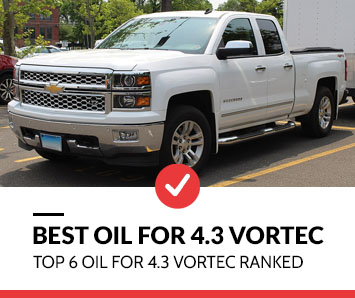 Our Overall #1 Rated Pick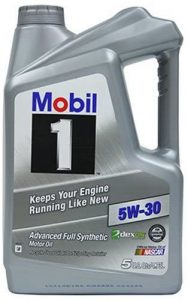 Mobil 1 Advanced Full Synthetic 5W-30 Motor Oil
Our pick for the best oil for this type of engine is also Mobil 1 Advanced Full Synthetic 5W-30 Motor Oil. It's a dexos2 approved oil that's one of the most commonly used and available brands. In terms of price, it's between cheap and expensive oils.
It provides great lubrication, thanks to the fact that it's fully synthetic. Additionally, it's good against sludge protection, which can be a problem with truck engines. You can easily extend it to the maximum interval of the oil change, which in this case, is 5000 miles.
Another good thing is that this oil is good for both ends of the temperature scale. In other words, you can use it in scorching heat as well as sub-zero temperatures. Neither will it heat up in summers nor thicken in the winters.
Technical Specifications:
Type: 5W-30
Engine: Gasoline
Model: 120764
Pour Point: -45 Celsius
Density at 15.6 C: 0.852 g/cm3
Flash Point: 230 Celsius
Dexos2 approved
Official oil for NASCAR
Pros
Higher fuel efficiency
Superior temperature threshold
Fewer breakdowns and lower maintenance
Enhanced MPG and mileage
Cons
4.3 Vortec Oil – User's Recommended Oil
Are you short on time or just want a quick answer?
Check out our list below for a summary of our results.
Owners of GM and Chevrolet trucks with the 4.3 Vortec engine recommend using the same oil viscosity as recommended by GM. Most users report using 5W-30 oil in their vehicles. As for the type of oil, full synthetic remains popular.
S10 Forum Users also recommend using 10W-30, especially if your engine has lifter noise. If your engine is still in pristine condition, then sticking to the less viscous 5W-30 seems to be the best choice. Even the 5W-20 should work if you have an engine no older than 10 years.
Interestingly, some users also talk about using 15W-30, which is thicker than the official recommendations by GM. They argue that it works best in extremely humid conditions. So perhaps if you're in the South in the dead of summer, you could go for 15W-30, but we would recommend sticking to the manufacturer's recommended oil weights.
Based on user recommendations, here are the best picks based on mileage:
Low Mileage (Under 75000):

5W-30, 5W-20, 10W-30, 10W-40 (Full Synthetic)

High Mileage (75000 or Above):

High Mileage 5W-30 or 10W-30 (Full Synthetic)
In general, users go with the oil from their preferred brands that are dexos approved. This basically ensures that the oil is compliant with GM engines.
As for the brand and the motor oil, Mobil 1 5W-30 Motor Oil is a popular choice among users.
They recommend using the fully synthetic variant as it provides the best protection against wear and deposit. It does not produce any sludges, and most importantly, it's dexos2 approved.
There's also a discussion about oil filters, as it's equally important to the oil you're using. They recommend using a high-quality oil filter to ensure that you get the benefit of using high-quality oil. In terms of viscosity, different users have different preferences, perhaps based on the engine's conditions and the temperatures in the operating areas.
Best Oil for 4.3 Vortec
The top best product [hide]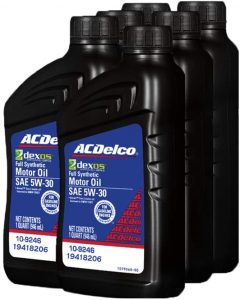 Let's talk about the type of oil first, which you can easily find in your car's owner's manual. Generally, for the 4.3 Vortec engine, GM recommends 5W-30 for cold climates and 10W-30 for warm climates. As for the brand, GM has its own line of motor oils, so they recommend using those in the GM engines, including the 4.3 Vortec. GM also has a certification for motor oils called the Dexos certifications, which basically means that the motor oil is certified and recommended by GM. The recommended engine oil for 4.3 Vortec is
Genuine GM ACDelco Full Synthetic 5W-30 Motor Oil
. This oil is specifically designed for GM engines as it's dexos2 approved. This one is fully synthetic oil, even though there is not a specific mention of the type of oil in many manuals. This oil is highly resistant to oxidation and heat, which basically means it will not burn so easily. It also has a longer seal life, so it's best for high mileage cars as well and will prevent leaks. Technical Specifications:
Type: 5W-30
Model: 19418206
Engine: Gasoline
Dexos2 approved
Quantity: 1 Quart, 5 Quarts
Pros
Prevents leakage

High MPG and mileage

Higher resistance to oxidation

Best for Diesel engines

Cons
Not for use in Duramax engines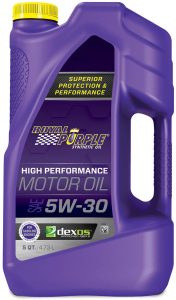 Royal Purple is one of the high-end brands, so if you don't have any budget issues, you can go for this. Obviously, paying a big buck means getting better quality. So this 5W-30 motor oil will deliver good results in terms of performance and protection of the engine. This is again dexos2 approved, so you can use it in your GM and Chevrolet cars with no worries. It's also compatible with gas that contains ethanol. Furthermore, it's great at corrosion protection.
Pros
Great engine wear protection

Good for high humidity

Better fuel efficiency

Corrosion protection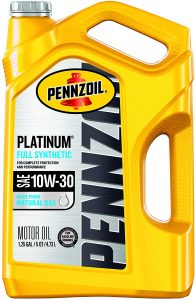 If you want to add more mileage to your vehicle, then try the Pennzoil Platinum motor oil. This 5W-30 oil that adds up to 550 more miles per year to your mileage also helps to protect the engine from intense wear and power loss. The main feature here is that it's highly stable against both temperature and oxidation. This means the oil will break down less frequently, and you won't have to deal with regular maintenance. Also, all Pennzoil synthetic oils are made from natural gas, so it's the best synthetic oil for 4.3 Vortec.
Pros
Highly stable

Fewer breakdowns

Crystal clear oil base

Keeps your engine secure

Preserves economy and power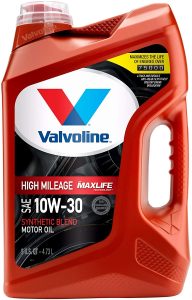 For the high mileage 4.3 Vortec, go for the Valvoline High Mileage Motor Oils with MaxLife Technology. It's the best option for old engines, especially ones that may have leakage problems. It's a synthetic blend, which is still better than conventional oil. The formula for this high mileage oil contains antioxidants that prevent deposits and sludges. Many of the cars with 4.3 Vortec are older than 2014, with some going back two decades. Therefore, this is a high-quality high mileage oil.
Pros
MaxLife Technology

Ergonomic bottle design

Contains extra cleaning agents than low mileage oils

Good for rebuilt engines too

Cons
May not be great for low mileage engines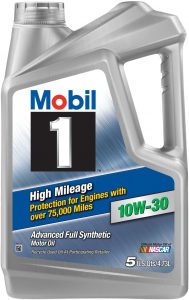 If you have a high mileage car and want to stick with Mobil 1, go for this full synthetic variant. This particular oil is one of their best in the 10W-30 category. As a fully synthetic high mileage oil, it's appropriate for all those old 4.3 Vortec engines that have completed 75,000 miles. Even though some Mobil 1 oils are notorious for burning up fast, this one is an exception. Just like the 5W-30 from Mobil 1, this one should easily last up to the recommended change interval, essentially saving you money. It's not a cheap oil though, but is available in every major store and online.
Pros
Protection against wear

Good for very old engines

Improves fuel economy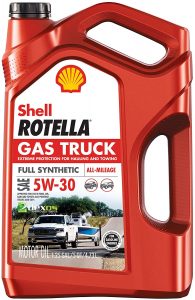 The 4.3 Vortec engine is most commonly used in trucks, so this Shell Rotella Gas Truck Full Synthetic oil should be just fine for this engine. You can also use it in gas SUVs. This is an all mileage motor oil, so you can even use it in the cars over 75,000 miles. It's an affordable product that's also dexos2 approved, so you have the official GM approval for using this oil. This is good enough for hard working trucks too that tow and haul other cars or boats. It will prevent any strains on the engine and keep it safe from wear and deposits.
Pros
Synthetic base

Good for extreme conditions

Wear protection

Affordable price

Cons
Fuel consumption increases slightly

The container is quite basic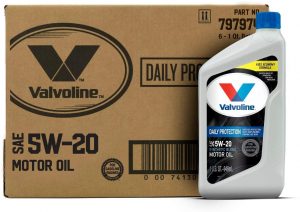 For those of you who prefer using conventional oil for whatever reason, the Valvoline Daily Protection is the best motor oil. This is a 5W-20 SAE motor oil designed to exceed industry requirements. Even as conventional oil, it keeps your engine clean and prevents wear. This motor oil from Valvoline has additives that prevent it from breaking down. It doesn't thicken up even in the extreme cold. It enhances fuel economy to maintain a higher MPG.
Pros
Higher temperature threshold

Enhanced fuel economy

Prevents oil breakdown

Protects the engine from wear

Oil for 4.3 Vortec: Buyer's Guide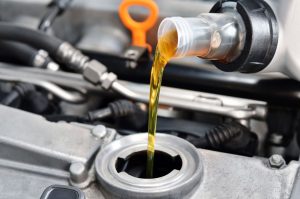 Here's everything you should consider before buying the motor oil for your car with a 4.3 Vortec engine
Viscosity
The viscosity of the oil is a grading of how much the oil flows at varying temperatures. Typically measured in an SAE rating, the rating looks like this: 5W-30. The first number represents how much the oil will flow at lower temperatures, while the second number shows its fluidity at higher temperatures.
For 4.3 Vortec engines, SAE ratings of 5W-20, 5W-30, 5W-40, and 10W-30 are recommended. You can experiment with other viscosities, but doing so may damage the engine. For instance, 5W-30 is the recommended 2000 Chevy Blazer 4.3 oil weight, so you should ideally stick with the recommendation.
Synthetic vs. Conventional
Next, consider whether you want synthetic or conventional motor oil. Synthetic oil is normally preferred since it has fewer to no impurities. It can be finely engineered for different purposes for specific engine types, for example, hardworking tow trucks.
These oils also produce less friction and boost the mileage of your car. They have additives that enhance wear performance and sludge protection.
Synthetic oil is famous for producing lower emissions. This means that it's lighter on the environment. It's also the recommended 2004 Chevy Silverado 4.3 oil type and 2008 Silverado 4.3 oil type.
Oil Capacity
The 4.3 Vortec engine can hold up to 4.5 quarts of engine oil in its oil pan. So you can simply buy a 5-quart bottle and save the half quart for later. In recent V6 4.3 engines which succeeded the Vortec 4.3 engines, the capacity has been increased to six quarts.
How to Do Oil Change on the 4.3 Vortec?
Firstly, raise the front of the car with a jack and slide underneath the front end of the car. Then, place your drain pan directly below the drain plug right underneath the main oil pan.
Now unplug the drain plug by means of a ratchet set. Let the oil fully drain out into your drain pan.
Now, put the drain plug back in and tighten it. Make sure there are no leaks or gaps.
Move to the driver's side and set your drain pan directly underneath where the oil filter is. Remove the oil filter, then fill it up with the replacement engine oil.
Plug the filter back in and lower the vehicle from the jack stands. Open the bonnet and then pour 4.5 quarts of fresh engine oil into the oil filler cap.
You can see the steps in this video too.