Jeep is a sturdy vehicle that can last a lifetime if taken good care of. One of the primary decisions you'll make for your jeep is finding the right motor oil. In this post, we'll cover which is the best oil for Jeep 4.0 engine.
We'll talk about the best motor oil brands and products on the market that are compatible with a Jeep 4.0 engine. Also, we'll discuss what the manufacturer recommends vs. what most users are recommending.
The Jeep 4.0 engine was introduced back in 1986 when the brand was still a subsidiary of the American Motor Corporation (AMC). It's considered one of the best off-road engines and has been used in virtually every model of Jeep, including the Wrangler and the Cherokee.
It's a six-cylinder engine with a size of approximately 242 cu. It's one of those engines that run up to 200,000 miles with no major problems or overhauls.
Oil for Jeep 4.0 – Manufacturer's Pick
The Jeep 4.0 engine has been used in five different models over two decades. However, in most of these cars, Jeep recommended motor oil of 10W-30 viscosity. In some of the models, you may also see recommendations for 5W-30 oil for cold climates.
You can check out the particular owner's manual for your model to see if it recommends both or just one (10W-30). If in doubt, simply go with 10W-30 as it's universally picked for all 4.0 engines.
As for the brand, Jeep has not specified any brands it recommends in particular. This leaves the choice totally in your hands. That said, it does recommend using oils that are American Petroleum Institute Certified.
Based on the manufacturer's generic recommendation and given the fact that the engine is likely older than 2006, the best choice would be Valvoline High Mileage Synthetic Blend 10W-30 Motor Oil. It meets all the standards specified and, of course, the viscosity/weight. If you want to go for the 5W-30 as per manufacturer's pick, it's also available in that viscosity rating.
Our Overall #1 Rated Pick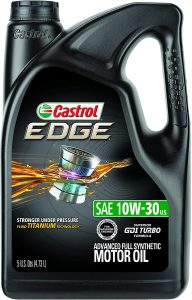 Castrol Edge Advanced Full Synthetic 10W-30 Motor Oil
Our all-rounder pick for the Jeep 4.0 engine is Castrol Edge Advanced Full Synthetic 10W-30 Motor Oil. It's a premium grade oil from one of the most trustable brands of engine oils in the world. For an off-road gasoline engine like Jeep 4.0, you need something that can prevent wear.
Full synthetic oil generally gives a smoother start in low-temperature conditions. So even though the recommended viscosity for cold conditions is 5W-30, this should still be sufficient. The best part is it's not even expensive, so you get something high-quality in the price of regular oil.
It has Fluid Titanium Technology, which basically means it's designed to perform well even under pressure. Given that your Jeep with a 4.0 engine is probably old and used on tough terrain, this would make a good choice. It may also deliver good fuel economy, especially in high mileage Jeeps, having completed 100,000 miles.
Technical Specifications:
Model: 03081
Engine: Gasoline
Quantity: 1 Quart, 5 Quarts
Superior GDI Turbo Formula
Fluid Titanium Technology
American Petroleum Institute Certified
Pros
Great value for money
42 percent more efficient in removing deposits
Superior quality than most synthetic-blends and conventional oils
Good for all-year-round temperatures
Works for long intervals
Cons
May need replacement sooner
Oil for Jeep 4.0 – User Recommended
If you're looking for the recommended oil for the Jeep 4.0 engine, you're in luck because now there are lots of existing user accounts to consider. As one of the most rugged engines Jeep has ever produced, this particular engine model has successfully completed a few hundred thousand miles for many users.
Current and former Jeep owners using models equipped with a 4.0L engine recommend the same viscosities of the motor oil as the manufacturer, which are 10W-30 and 5W-30 depending on the ambient temperatures.
Most users say that you can use any brand of your choice, so long as the viscosity is right.
Interestingly, some owners reported using 10W-40 motor oil in their Jeep 4.0 engines with no problems as such. However, it's best to stick to the manufacturer's recommended viscosity. Most people only talk about the 10W-30, so it's fair to say that it's the number one choice for Jeep owners with a 4.0 engine.
As for the type of oil, the Jeep 4.0 engine basically takes any type of oil. Some users report using only conventional oil over the years. So you have a bit of a wiggle room there, and you can go with the type you personally prefer. That said, the full synthetic motor oil would, of course, be the best choice as it's more superior in quality.
Users also suggest the following based on mileage:
Low Mileage (Below 75,000 miles):

10W-30, 5W-30, and even 10W-40 (Conventional, Synthetic Blend, or Full Synthetic)

High Mileage (Above 75,000 miles):

High Mileage 10W-30, High Mileage 5W-30 (Conventional, Synthetic Blend, or Full Synthetic)
If there's one specific brand and product that gets mentioned a lot on online forums about Jeep 4.0 engines, it's the Pennzoil Platinum Full Synthetic 10W-30 Motor Oil.
Similarly, according to some owners, the best oil for high mileage Jeep 4.0 is Pennzoil Platinum High Mileage 10W-30 Motor Oil.
Best Oil for Jeep 4.0 Engine
The top best product [hide]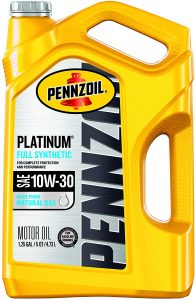 The Pennzoil Platinum Full Synthetic oil is one of the best-selling full synthetic engine oils. As is the highlight of Pennzoil synthetic oils, this one is derived from natural gas. If you're looking for the highest fuel economy from your Jeep, this could be your choice. It's best for both types of extreme temperatures: cold and hot. It comes in the signature yellow-colored bottle of Pennzoil. It's more on the affordable end in terms of price, even though it's a premium quality oil.
Pros
Impressive fuel economy

Best wear protection

Crystal clear oil base

Prevents loss of power

Good value

Cons
The bottles are not leakproof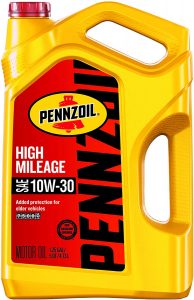 Your Jeep 4.0 engine has most likely completed 75,000 miles and qualifies for a high mileage motor oil. This Pennzoil Platinum High Mileage Motor oil offers reliable performance for old engines. This would be particularly good for an engine with existing or prior leak problems. It has seal conditioning agents that improve the sealing of the engine and prevent future leaks. If you've been using conventional oils and don't want to switch, this will at least deliver the best possible quality for a high mileage vehicle. Also, it meets or exceeds most industry standards.
Pros
Prevents leakage

High-quality

Ergonomic, easy-pour bottle

Very cheap

Cons
Not as superior as a synthetic blend or full synthetic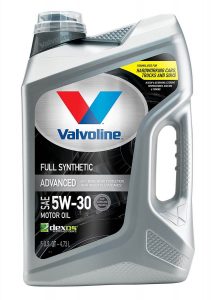 If you're going for the 5W-30 motor oil for your Jeep 4.0 engine, there's nothing that beats the Valvoline Full Synthetic Advanced motor oil. It's designed for hard-working engines such as the 4.0 in your jeep. If you use it off-road often, this engine oil will deliver the required performance. It's a Dexos approved Gen-2 oil that's particularly great for sub-zero conditions like in the Mid West. Made in the US, Valvoline is known for its high industry standards, although that comes at a price.
Pros
40% more wear protection

Easy to tell when it's time to change

Full synthetic

Innovative bottle design

Made in the US

Cons
For low mileage Jeeps

A bit pricey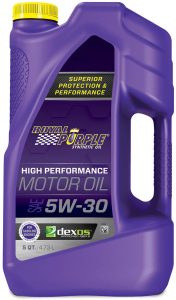 Royal Purple is another favorite among Jeep aficionados, so this High-Performance Full Synthetic Motor Oil should make a good choice. It's one of the most expensive oil brands but does deliver in terms of quality. Their oils double as a lubricant for engines, keeping them in the best shape. This one is also Dexos approved Gen 2 motor oil. If you use gas with ethanol, this one is compatible with such fuel. It will also provide corrosion protection if you're in a humid climate like in the South.
Pros
Great engine wear protection

Good for extreme temperatures and humidity

Increased fuel efficiency

Corrosion protection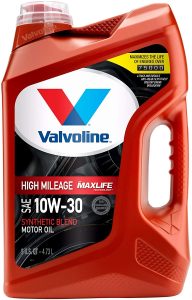 The Valvoline High Mileage Motor Oils with Max Life Technology are your best bet for making your engine last longer. If you have leak problems, then also this oil has the potential to resolve it. It's a synthetic blend, so it will be a step up if you've been using conventional oil only. The formula for this Valvoline oil is rich in antioxidants that prevent deposits and sludges. Jeeps can easily go over 200,000 miles. So if your Jeep 4.0 engine has reached over that, this can help extend its life even further.
Pros
Max Life Technology

Good value

Easy to use the bottle

Contains extra cleaning agents than low mileage oils

Good for rebuilt engines too

Cons
May not be great for low mileage engines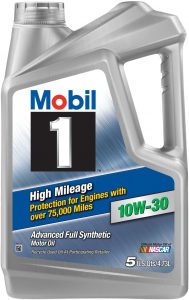 Mobil 1 is one of the most common brands, but some of its products have mixed reviews. This one, however, is one of their best. As a fully synthetic high mileage oil, it's appropriate for a Jeep 4.0 engine, especially if it's really old. The good thing about this motor oil is that it does not burn so fast, so you may be able to push on the change interval a bit. In terms of quality, it's comparable with the likes of Valvoline and Helix. However, it's not quite cheap if that's what you prefer.
Pros
Protection against wear

Good for very old engines

Improves fuel economy

Oil for Jeep 4.0 Engine: Buyer's Guide
Buying the best oil for Jeep 4.0 engine depends on a few things:
Car Model
From the beginning of these engines, several Jeep models have used the 4.0 engine, most notably Wrangler and Cherokee. So you may want to check with your car's specific manual to see what specific recommendations they have given.
Viscosity
For the Jeep 4.0 engine, the recommended viscosity of the motor oil is 10W-30 and 5W-30. The latter is best for cold conditions. It's important to note that 10W-30 is also good for such conditions. However, some car manuals may recommend it only for warm periods.
Generally speaking, the 10W-30 oil is the best and perhaps most compatible. You can even use the slightly less thick 10W-40. Jeep 4.0 10W-30 and 10W-40 motor oils are good for most conditions.
Capacity
The Jeep 4.0 oil capacity is six quarts. Most oil containers come in single quart and five-quart volumes, so you're going to need each to fill up the engine completely.
Oil Type
There are no specific recommendations from Jeep as far as the oil type is considered. Given that it's an old engine, it's good with conventional, as well as, the synthetic options. It just boils down to your own preference whichever one you find best.
It doesn't even matter what car model and year you have. 2004 Wrangler Jeep 4.0 oil type and 2005 Jeep Wrangler oil type would essentially be the same.
To give you a general idea, here's a quick run-through of each type:
Conventional Oil
Made of crude oil
Least superior
Cheap
Synthetic Blend
Conventional oil base
Mostly conventional
Better in quality than conventional
Cheaper than full synthetic
Full Synthetic
Premium quality
No crude oil
Most expensive
How To Do an Oil Change on a 1999-2004 Jeep Grand Cherokee 4.0 watch here:
Tips
Try tracing the service details of the car to find which oil has been used
Don't worry about transitioning from conventional to synthetic as this engine is good with all three types
Check out the recommendations from Jeep in the owner's manual
Don't go over 7,500 miles without changing the oil
You can do the oil change yourself (Jeep Grand Cherokee Oil Change Tutorial)