The Honda Accord is a ubiquitous vehicle, as you'll see it everywhere in the US. As an all-rounder car, it's one of the best-selling models of Honda all over the world. If you're looking for the best oil for Honda Accord, you'll find out everything there is to know in this post.
From model overview to user recommendations based on experiences, you'll find all the information you need to make the best decision.
Whether you simply follow the manufacturer's recommendation or go by what's popular, make sure to read every section, as you'll find out what works for your specific model and year.
Click here to skip to our recommended pick!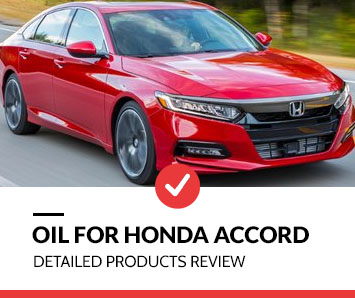 Our Overall #1 Rated Pick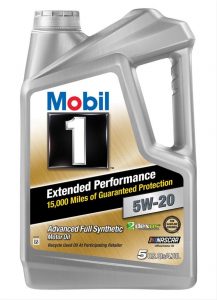 Mobil 1 Extended Performance Advanced Full Synthetic 5W-20 Motor Oil
The number one rated pick for Honda Accord is the Mobil 1 Extended Performance Advanced Full Synthetic 5W-20 Motor Oil. Here's why:
Exceptional performance
Good for all operating conditions
Great value for money
The best engine oil viscosity for the Honda Accord is SAE 5W-20, and in that category, Mobil 1 is a highly popular choice.
First off, Mobil 1 lasts long and doesn't burn easily. It will also provide great protection against deposit build-up and sludge.
It's also ideal for those vehicles that do a lot of stop-and-go driving. Similarly, for those living in frigid temperatures, they will benefit from a smooth start, even in freezing conditions.
This one doesn't breakdown and maintains the viscosity throughout the interval. The company claims it can last up to 15,000 miles, which would save you money.
This oil is API-certified, and dexos1 Gen 2 approved, so it meets all the basic requirements of good oil for a gasoline engine.
Oil for Honda Accord Recommended by Manufacturer
For most owners, the best solution is to find what is recommended by the manufacturer. The recommended engine oil for Honda Accord may vary by generations or even some variants. So it's best to look in your specific car's manual.
In case you have an older model and do not possess the owner's manual, look online for one. Alternatively, you can also consult what users have been using (more on that next). Here's what Honda recommends for the 2010 Honda Accord, as per its owner's manual:
Honda Approved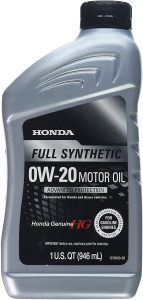 Viscosity
For the 2010 Honda Accord, the manufacturer recommends SAE 5W-20. It just specifies one viscosity and doesn't outline any alternatives. The manual also mentions that synthetic oil can also be used, which means you can also use conventional oil.
Capacity
The four-cylinder engines use 4.2 quarts and the V6 engine models use 4.5 quarts. So you basically just need one 5-quart bottle of the engine oil.
Specification of Oil
Other than the 5W-20 viscosity, Honda specifies that the oil should be API-certified. It also recommends Honda Motor Oil 5W-20, which is the manufacturer's own oil. However, you can use any equivalent from any other brand of your choice.
Oil for Honda Accord by Mileage
Since Honda Accord has been around for more than three decades, most owners with high-mileage cars should also take that into account. Depending on the mileage and the car's condition, you may need a slightly different viscosity or specific high-mileage variants.
No matter the mileage, for most users, the favorite brands of oils for Honda Accord are Mobil 1 and Pennzoil. Regardless of the year of manufacturer and mileage on the odometer, users seem to trust this brand.
For low mileage Accord especially from the last two generations, some owners say you can even use semi-synthetic (synthetic blend) motor oils, as long as you stick to the recommended viscosity (0W-20).
So here's what we know about low-mileage and high-mileage based on user recommendations since Honda itself doesn't make any distinction based on mileage.
Although you can continue to use conventional oil in Honda Accords that have over 100,000 miles, the best oil for high-mileage Honda Accord is a full synthetic or at least a synthetic blend. Most manufacturers say you can switch from conventional to synthetic without any problems. Then again, it's your discretion at the end of the day.
Important Note: You should use High-Mileage variants of full synthetic oils if your high-mileage car has engine problems like leakage. Such oils are designed to prevent and fight such issues in aging engines.
Best Oil for Honda Accord
The top best product [hide]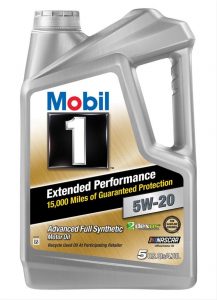 The Mobile 1 Extended Performance Advanced Full Synthetic 5W-20 motor oil is best overall for the majority of Honda Accord models up until 2011. It's great for both low-mileage and high-mileage cars as it's fully synthetic. Mobil 1 is an instantly recognizable name in the US, as their oils are high-quality. This Extended Performance variant qualifies as its premium oil product. However, it's not very expensive, which makes it even better.

It meets all the standards set by Honda for different models over the years. Plus, it's great for preventing deposits and sludge. If your car does a lot of city driving, this will keep the engine protected from wear. Even though it offers longer intervals, you should stick to the interval recommended by Honda.
Pros
No oil breakdown

Long intervals

Full compatibility with older models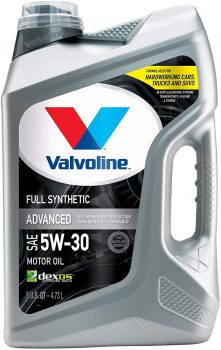 The Valvoline Advanced Full Synthetic SAE 5W-30 Oil is the best budget oil if you don't want to spend a lot of money, but also want a trustable brand. This premium oil has a solid formula that guarantees protection against sludge and wears. It's an all-rounder engine oil that not only protects the engine but also improves its performance. Plus, it's good for all temperature conditions, whether you're in the desert or the arctic tundra. More importantly, you'll save money by improving fuel economy.

It's API-certified and Dexos Gen2 approved. It meets all the requirements of a high-quality oil while also being fully compatible with Honda standards.
Pros
Sludge protection

Performance and fuel economy improvement

Made in the US

This is the official manufacturer's recommendation, so you can use this without any guesswork. The oil is specifically designed to suit Honda vehicles, especially those with high fuel economy, such as the Honda Accord.

It's good for all the Honda Accord models after 2011, especially with the latest tenth-generation models. The formula also ensures superior engine cleaning and protection, giving you the best performance. Also, it can be used in any extreme temperatures. This OEM oil will make cold starting very convenient. If you're still in the warranty period, use this oil since it's mentioned in the owner's manual. This way, you ensure you're complying with the warranty terms.

Con: Very expensive
Pros
From the manufacturer

No guesswork needed

Reliable protection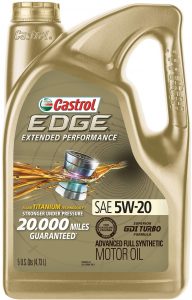 Castrol is another popular and reliable brand of motor oils, and this Castrol Edge Extended Advanced Full Synthetic oil fits the bill for high-mileage cars. It meets all the specifications for Honda Accords through to the eighth generation, both four-cylinder and V6 engines. The GDI Turbo Formula ensures no wear and deposits hamper the engine's performance. This one is best for cars that run in the city and do a lot of idling. It's Dexos1 approved, while also exceeding other industrial standard tests.

This is again one of those oils that don't breakdown or increase viscosity easily, so they typically last for longer intervals. In fact, this one can go up to 20,000 miles (or one year). So you can extend the interval a bit without compromising the integrity of your engine, especially if you don't do any heavy work with the car.
Pros
Great fuel economy

Ten-times stronger in high temperatures

Smooth start in low temperatures

Pennzoil Ultra Platinum Full Synthetic is the highest-quality variant in Pennzoil synthetic oils. These oils are made from natural gas, so they deliver great performance and protect the engine well. Pennzoil is a favorite brand among many Honda enthusiasts. It's formulated to provide better flow at low temperatures and ensure a smooth starting. That said, it's equally great for high temperatures, so you can use these anywhere in the country.

You can easily squeeze in more miles (as much as 550) in between oil changes as this oil lasts long. On top of that, the bottle has an ergonomic design that makes it really easy to pour it all in.
Pros
Made from natural gas

Reliable protection against deposits

Better fuel economy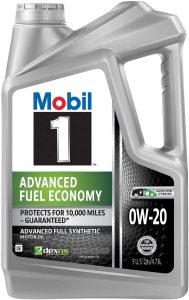 If your ultimate goal is to improve fuel economy, this Mobil 1 0W-20 oil should do the job. This is ideal for all the latest Honda Accord models that take the 0W-20 viscosity. The formula is specifically designed to improve fuel efficiency, which is now a major theme of newer Accord models.

It also protects the engine at all temperatures, low and high. This is yet another motor oil that's versatile enough to suit the majority of the cars, regardless of their use. No matter how you drive and how much you drive, this should do the job well. It's a little pricier, but then it makes up for it with the money it saves you on fuel. This can save you a lot of gas money, especially if you use it with the hybrid variant.
Pros
Extraordinary fuel economy

Long-lasting

Fully compatible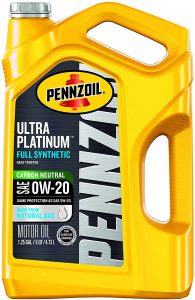 The Pennzoil Ultra Platinum Full Synthetic 0W-20 is another great option for recent Honda Accord models. If budget is not a constraint for you, this premium oil will deliver everything you expect from it. From unrivaled protection to an extraordinary boost in fuel economy, that's what this formula is all about.

Made from natural gas, this synthetic oil is one of the best, in terms of quality. Pure Plus Technology maintains low viscosity even at low temperatures. As a result, it doesn't put any strain on the engine. It meets all the compatibility requirements of the Honda Accord ninth and tenth generation models.

Con: Very expensive
Pros
Reliable performance and fuel economy

Ergonomic bottle design

Fully compliant and certified

Model Overview
Honda Accord was the first Japanese automaker's car to be built in the US. It's now in its tenth generation, which goes to show how incredibly successful it has been. With such a long history, it has had many changes over the years.
While the car is essentially considered a mid-size sedan, earlier generations had some variants that qualified it as a big car.
In terms of engines, most recently with the tenth generation release in 2018, the engine was changed to a 1.5-liter four-cylinder, and the other option was a 2.0-liter turbocharged four-cylinder. The five generations prior to this had a varying four-cylinder engine with the options of the V6 engine also included (starting in 1995).
The motor for generations prior to 2011 used 5W-20, whether they had the 2.3-liter engine or the V6. After 2010, the recommendation was revised, and 0W-20 synthetic oil was recommended. That hasn't changed with the new engines in the tenth generation cars as they also use 0W-20 oil.
In the US, the Honda Accord has only used gasoline engines in its entire life. In fact, Honda cars mostly use gasoline engines in the country. So while the oil viscosity has changed sometimes, it remains a gasoline oil for a gasoline engine.
Oil for Honda Accord: Buyer's Guide
So now that you understand viscosity completely, here's some more important information before you buy the oil from your chosen brand.
How Much Oil Does Honda Accord Take?
Now, this may slightly vary by models, especially generations. Commonly, the four-cylinder engine takes about 4.2 quarts and the V6 one takes 4.5 quarts.
The Honda Accord oil capacity has changed slightly in the recent models. The 1.5-liter engine takes 3.4 quarts, while the bigger 2.0-liter takes up to 4.6 quarts. You should be fine purchasing a 5-quart bottle for a Honda Accord, as no model exceeds five quarts in capacity.
Service Intervals
The service interval for Honda Accord is typically 7500 miles, especially in the more recent models. However, you can always do it earlier, for instance, by 5000 miles. If you have an older model, keep the intervals between 3000 to 5000 miles depending on your usage.
Most Honda Accord owners recommend doing it after 5000 miles or six months, whichever comes first. You can also see the Oil Life Indicator on the information display. Anything lower than 20% calls for a change.
How to Change Oil
Honda Accord is an incredibly popular car, so you can easily find Honda Accord oil change tutorials. You also have this information in your manual.
Here's an oil change tutorial for Honda Accord 2013-2016 that's very easy to follow. If you have another model, look for that year.
Oil for Honda Accord – Tips
Consult the owner's manual first and foremost for everything
Don't use any off-brand oil just to save money
Even though some oils offer longer intervals, stick with the recommendations in the manual (5000 to 7500 miles)
Don't change viscosity and stick to the one you've been using
Use high-mileage if you suspect leakage
Honda Accord Oil Type By Year
Typically, the oil requirements are the same within the same generation of models. However, the capacities can vary by years, especially by variants. For instance, Honda 2.2 i-CTDi engine oil may be different and may have a different capacity than the V6 engines.
Honda Accord 1998-2002
Most Honda Accords with the four-cylinder take the recommended 5W-20 oil. It can be a synthetic blend or full synthetic. The V6 engine also takes the same, for instance, the 2002 Honda Accord V6 oil type is 5W-20 synthetic, and the capacity is 4.6 quarts.
Honda Accord 2003-2007
The 2003 to 2007 Honda Accord oil type remained 5W-30, with Honda now also mentioning synthetic oils. The four-cylinder inline engine takes 4.4 quarts, while the V6 engine takes about 4.6 quarts.
Honda Accord 2008-2012
This was the last generation of Honda Accord that had the official recommendation for 5W-20 viscosity. The capacity was similar to the 2010 Honda Accord oil type, i.e., 4.2 and 4.6 for four-cylinder and V6 engines, respectively.
Honda Accord 2013-2017
The 2013 Honda Accord oil type was changed to 0W-20. Honda recommends synthetic oils for these engines. The oil capacities were similar, though.
Honda Accord 2018-2020
The Honda Accord tenth generation also uses 0W-20 oil viscosity, preferably full synthetic. However, the oil capacity has been introduced since. For instance, the 2019 Honda Accord oil type is 0W-20, and the capacity is 3.6 quarts and 4.6 quarts for 1.5-liter and 2.0-liter engines, respectively.