Nissan Titan trucks have been for almost two decades now. If you're wondering what the best oil for Nissan Titan is, this post will help you determine exactly that.
You'll learn about the vehicle and its engine a bit, as well as what your options are based on manufacturer's recommendations and what owners have been using already. You'll also find out when exactly should you change oil and how to ensure optimal performance.
So read thoroughly every section, as it will cover both old and new Nissan Titan models and give you valuable information for the next time your truck is asking for an oil change.
Click here to skip to our recommended pick!
Our Overall #1 Rated Pick
Castrol Edge SAE 10W-30 Advanced Full Synthetic Motor oil
The all-rounder engine oil for your Nissan Titan is the Castrol Edge SAE 10W-30 Advanced Full Synthetic Motor oil. Here are it's key features:
Fluid Titanium Technology
Reliable engine protection
Exceeds many industry standards
The best oil for your Nissan Titan's engine is an SAE 10W-30 viscosity oil. This Castrol 10W-30 oil is a premium product that's really superior to conventional and even synthetic blends.
This oil will not just protect the engine but also optimize its performance. Your truck will deliver on your expectations.
It reduces friction, preventing loss of engine performance. It's resistant to breakdown with a viscosity three-times thicker than average oils of this weight.
Castrol has tested the oil for many industry standards, all of which the oil has exceeded. On top of that, it's not even pricey.
As for deposits, it has a 42 percent better rating for clearing deposits in the engine. All in all, it's a powerful product that's good for both cars that do a lot of stop-and-go driving and those that have a more suburban drive.
Oil for Nissan Titan Recommended by Manufacturer
Now there are many models of Nissan Titan trucks as it has been around since 2003. Plus, there are different versions within the models, but that doesn't matter much as the generation does, as the oil type pretty much depends on the generation.
You should consult your owner's manual to see the recommended engine oil for Nissan Titan. Here's what the latest Nissan Titan 2020 owner's manual recommends:
Nissan Approved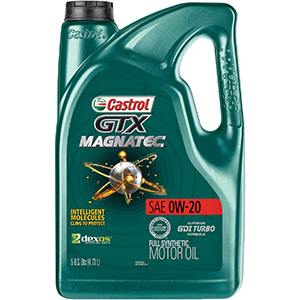 Viscosity
The manufacturer recommends 0W-20 viscosity of motor oil, and it mentions its own proprietary Genuine Nissan Motor Oil. Alternatively, it recommends using 0W-20 viscosity GF-5 SN motor oil.
Capacity
According to the manual, the engine oil capacity of the 2020 Nissan Titan is 6⅞ quarts or 6.5 liters with filter change.
Specifications of Oil
The oil should be equivalent to Genuine Nissan Motor Oil. In other words, it should match the viscosity with the GF-5 SN specification. It's a new oil category introduced by the American Petroleum Institute (API). So the oil should be API-certified.
It doesn't mention any other brands, just the specifications. So as long as the oil meets these specifications, you can use any brand of your choice.
Oil for Nissan Titan by Mileage
You should also consider the mileage your Nissan Titan truck has, as high-mileage cars typically need high-mileage motor oil.
For low-mileage cars, which would most likely be from the second generation, most users recommend using 0W-20 oil from the popular brands for the gasoline engines. Some users also reported using 5W-30 after the second generation cars have completed the warranty period.
However, it's best to stick to 0W-20 viscosity if you have a second-generation Nissan Titan. For the diesel engine low-mileage trucks, 10W-30 is the recommended option.
For first-generation trucks, most owners report using 5W-30 and 10W-30 engine oils. Even though the manufacturer doesn't exclusively say synthetic, the general opinion is that full synthetic is the best choice.
Here's what you can use depending on the mileage:
The best oil for high mileage Nissan Titan can be of any brand that's compliant with Nissan engines, but it should most definitely be fully synthetic. Full synthetic is the best quality, so an older engine can really benefit from it.
Important Note: For models earlier than 2016 running reaching high-mileage, use 5W-30 viscosity only, even though 10W-30 is compatible. 5W-30 is thinner, so it's better for an aging engine.
Best Oil For Nissan Titan
The top best product [hide]
The Castrol Edge SAW 10W-30 Advanced Full Synthetic Motor Oil is great for most Nissan Titan trucks older than 2016. You can also use the diesel engine oil version for the new diesel engines of Nissan Titan that ran from 2016 to 2019.

It's a premium quality oil that has the potential to improve engine performance. Whether you drive normally or do a lot of city driving, this should get the job done.

This one is API-certified for gasoline engines, so compatible with Nissan Titan engines. It's the best overall based on compatibility, features, and price. It exceeds many industrial standards.
Pros
Less friction

Efficient deposit cleaning

Improves engine performance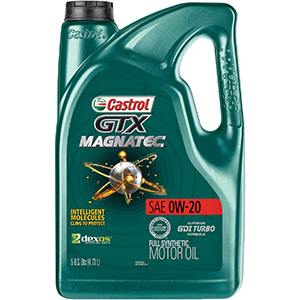 This oil meets the manufacturer's recommendation for the second-generation gasoline engine Nissan Titan trucks. It has a powerful GDI Turbo formula, which is fully synthetic. This is also dexos1 Gen 2 approved.

If you're looking for a smooth performance from your truck, this engine oil can ensure that. It provides reliable protection for the most critical parts of the engine. It's also the best budget oil as it's pretty reasonably priced.

In addition to protecting the vital parts of the engine, it can also improve fuel economy. You can even use it for high-mileage Nissan Titan trucks as it's quality enough to support engines that have over 75,000 miles on them.
Pros
Great fuel economy

Superior full synthetic formula

Complete engine protection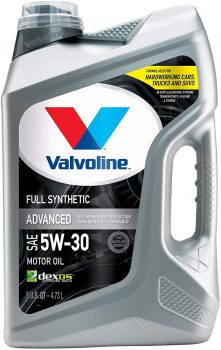 The Valvoline Advanced Full Synthetic SAE 5W-30 Motor Oil is another great choice for Nissan Titan engines that take 5W-30 engine oils.

It's especially good for extreme conditions. You'' have a smooth start even in freezing temperatures. So if you're in sub-zero temperatures, this is ideal.

This oil can dramatically improve fuel efficiency. The wear protection is also on par with the manufacturer's own oil. More importantly, Valvoline oils are manufactured in the US, so you can be absolutely sure about the quality.
Pros
Best for cold climates

Engine cleaning

Performance improvement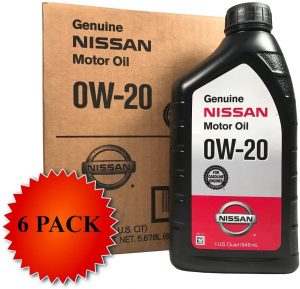 You can take all the guesswork out by simply using the Genuine Nissan Synthetic 0W-20 Motor Oil. It's compatible with all the gasoline engines of Nissan Titan from 2016.

Since it's synthetic oil, it will give a much better performance than conventional or synthetic blends. It's specifically great for high-temperature as it can run at up to 400 degrees. It meets all the requirements of a quality oil for your Nissan Titan. For low-mileage Nissan Titan trucks that may be still in the warranty period, this is ideal.
Pros
Manufacturer recommended

Synthetic oil

High-temperature protection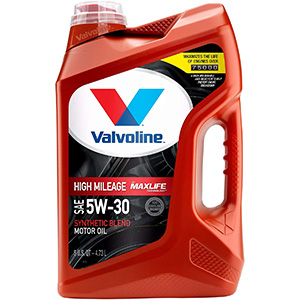 For high-mileage engines, the Valvoline High Mileage Max Life Technology 5W-30 motor oil is hands down the best option. It's a synthetic blend, though, not fully synthetic. Nevertheless, it really is high-quality and will keep your engine from leaking.

Max Life Technology basically involves added detergents that ensure the engine gets thorough cleaning every time. It will also prevent sludge from clogging the engine. If you do some heavy-lifting with your high-mileage truck, this will ensure optimal performance.

For Nissan Titan trucks older than 2010, this oil can prevent leakage. The premium seal conditioners can do magic for an aging engine having done 100,000 miles or more. It's also super affordable, so you can even do shorter intervals.
Pros
Added conditioners and detergents

Anti-leakage

Good value for money

Model Overview
The Nissan Titan trucks first came out in late 2003 and have been around since then, with slight modifications over the years. Initially, it was only available as a crew cab and extended cab, but Nissan also introduced a regular cab on later models.
It has a standard 5.6-liter V8 engine since the beginning. There haven't been major upgrades in its engine. However, body styles and secondary features have changed over the years.
The first-generation Nissan Titan trucks, which came out from 2003 to 2015, used 5W-30, as well as 10W-30 engine oils. 10W-30 is thicker than 5W-30, so better for hot climates. 5W-30 works well in both extremes.
With the second-generation Nissan Titan trucks launch in 2016, the engine remained the same, but its power increased to 390 hp and torque increased to 394 lb-ft. So Nissan also changed the oil recommendation to 0W-20 viscosity.
Also, the XD heavy-duty frame version was introduced. This version has a diesel engine option that came with Cummins 5.0 liter turbodiesel V8 engine with a massive 555 lb-ft torque. This diesel engine option continued till 2019.
For the diesel XD version, the diesel engine oil of 10W-30 is used, as well as 5W-40 for colder climates.
Oil for Nissan Titan – Buyer's Guide
In addition to choosing the right brand and viscosity, you also have to keep the following things in mind:
How Much Oil Does a Nissan Titan Take?
According to the latest manual, the Nissan Titan oil capacity is 6½ to 6⅞ quarts. Since the engines haven't changed much, their oil capacity has remained the same. They did change the viscosity with the second-generation but the capacity remained the same.
Service Intervals
Nissan recommends changing engine oil and filter every 7500 miles. However, it's your discretion if you want to change earlier. Many people change oil after 5000 miles. Just make sure that you don't exceed 7500 intervals or six months, whichever comes first.
For heavy drive conditions, you may want to replace oil as early as 3750 miles.
How to Change Oil in Nissan Titan?
You can change the oil in your Nissan Titan yourself. After you've decided which Nissan oil type is best for your particular model, you can consult the owner's manual to find the instructions for changing the oil.
In case you don't have the owner's manual, you can look up online for tutorials. Here's a simple video of the Nissan Titan oil change.
You'll need to take off the cover underneath the hood to access the oil filter. Remove the oil filter and collect the old oil in a pan. The process is pretty much the same for all Nissan Titan trucks.
Tips
Stick to Genuine Nissan Motor oil during your car's warranty period
Nissan recommends synthetic oil, so don't use conventional oil for this truck
Ensure the oil you choose has the API certification
You can use 10W-30 oil if you change at smaller intervals (for first-generation Nissan Titan trucks)
Buy quality filter to go with your synthetic engine oil
Don't use gasoline engine oil in diesel engine if you have an XD diesel engine Nissan Titan
Nissan Titan Oil Type By Year
2004 Nissan Titan Oil Type
The 2004 Nissan Titan was the first model of the truck and used the 5.6-liter V8 engine. The recommended oil type for this model is 5W-30. It takes about 6.5 quarts.
2006 Nissan Titan Oil Type
The 2006 Nissan Titan also prefers 5W-30 or 10W-30 in hotter climates. The engine is basically the same as earlier models, so is the oil requirement.
2008 Nissan Titan Oil Type
The 2008 Nissan used the same 5.6 Liter v8 engine. It uses 5W-30 oil and has a 6.5 quarts capacity.
2010 Nissan Titan Oil Type
The 2010 Nissan Titan saw some new body features, but the engine remained the same.
2017 Nissan Titan Oil Type
The 2017 Nissan Titan had an upgraded, more powerful engine. The gasoline engine prefers 0W-20 oil and takes 6.5 to 6.8 quarts.
2018 Nissan Titan Oil Type
By 2018, the 0W-20 viscosity became official as that was the only rating the manual mentioned now.